Just bought a 69 Roadster but the seat cover shape is not original.
Are all the Roadster bases the same and can you just alter the base foam to fit the correct seat cover?
Image of what it is and what it should look like.
I am assuming S code/Roadster bases are interchangeable
Thx
Eddie
The later Roadsters have side panels that have a flat top, the seat base may have changed at that point as the front part of the base could then be flatter too. If the yellow bike is of your new seat I would keep it, at high speeds and high acceleration those high bars put a lot of wind pressure on your chest and the stepped seat will mean less need to pull hard on the bars to stop you slipping backwards. I have several seats for different tanks and ride requirements so no harm in having a new genuine seat as well.
This is Andover's later Roadster seat, it does look less bent than the S type seat.
https://andover-norton.co.uk/en/shop-details/15675
Thanks John. I just love that early thin banana shape for the seat. A 2nd seat could be a good idea rather than swapping the cover and foam.
Cheers Eddie
I think the thin banana had a fibre glass base and they cracked a lot, hence also why no one makes copies and only the steel based later ones are available. A phone call to Leighton's would be your best start.
https://www.rk-leighton.co.uk/
The one on the 2nd image is from my 69 and has a steel base. It is a December 69 build date though.
Yep. Leightons would be a good call.
Cheers
Eddie
Here you can see the difference between a correct and a later seat for the 69/70 Commando:
At first I only had a later seat (71 onwards), the front curve of the seat does not follow the upward swept side panel Part No: 06-1766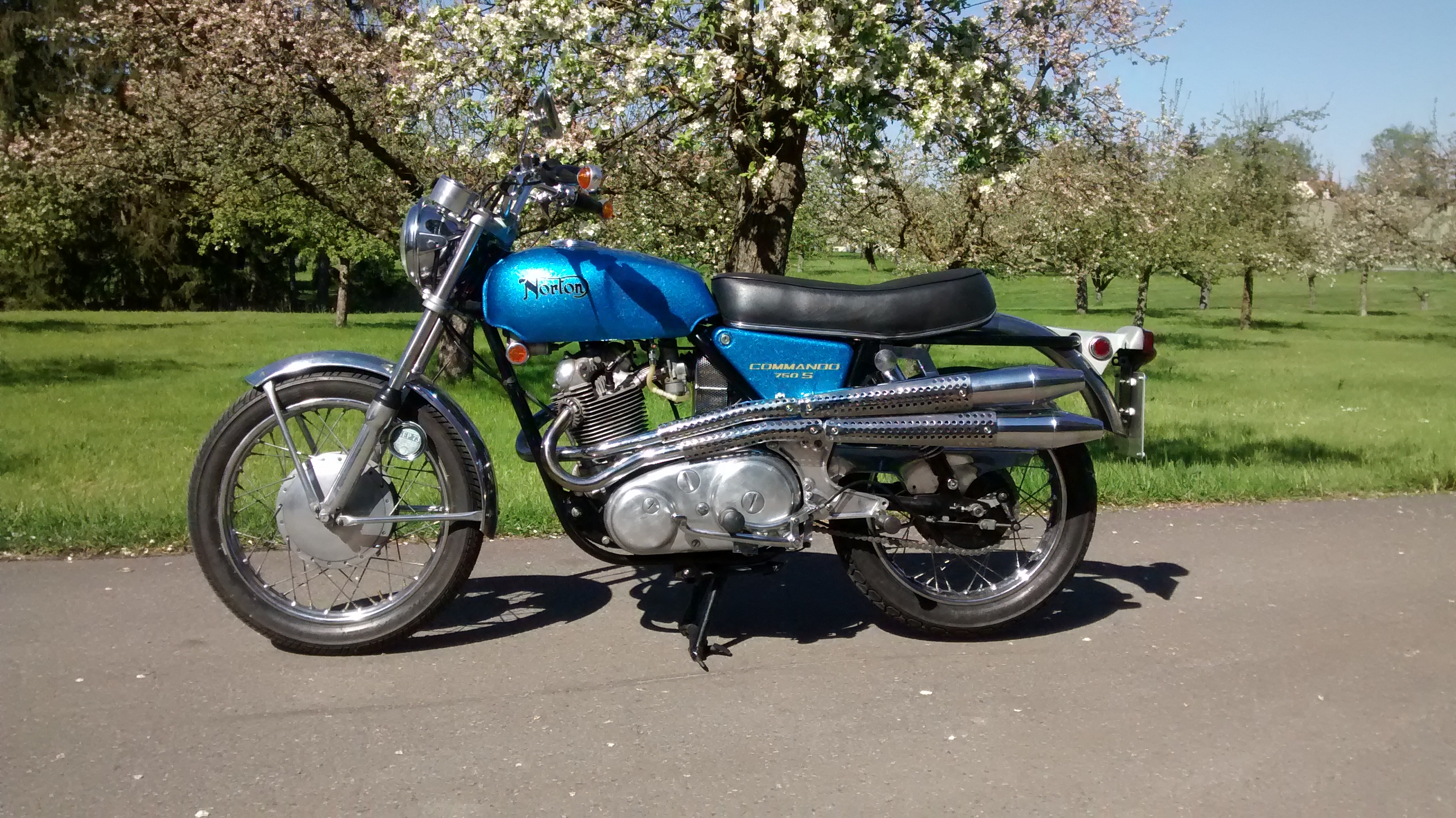 Later I got an original 69 seat with the correct shape. It follows the upper line of the side panel and has a distinctive " hip swing". Part No.: 06-1168
Ok , the seat cushion is a bit sagged.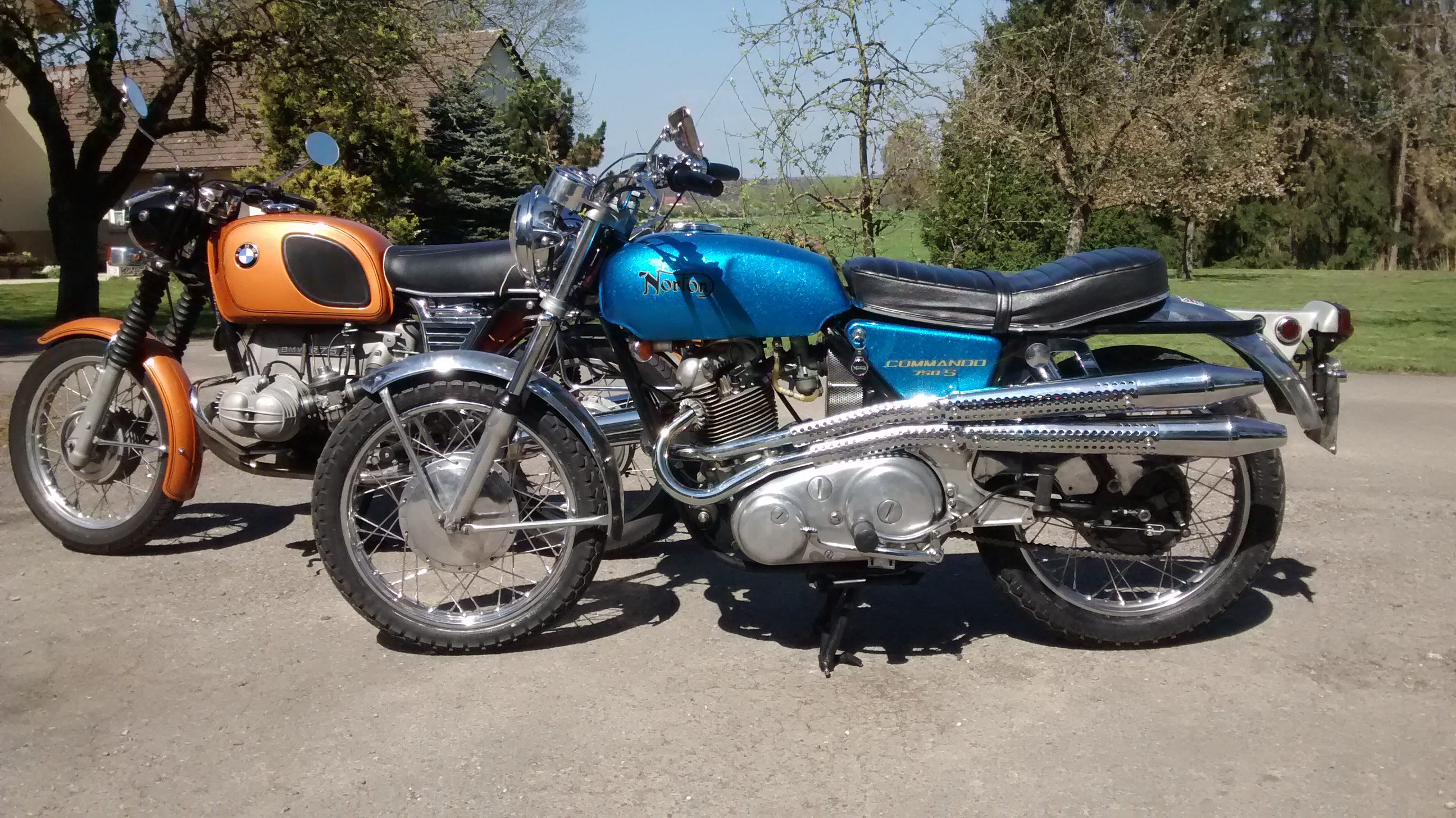 Hello Eddie,
my 1970 Commando was delivered to Gus Kuhn im May 1970 as a black roadster accodring to the dispatch records. I also found blue matalflake under the black paint on the original plastic tank. I guess they repainted those tanks and side panels for the European market.
I see, you have a key fob on your key for your S Type. I removed mine because the fob is dangling around in the wind , ruins the paint job and also the ignition switch while driving.
Uli
Hope you don't mind me jumping in, delete if so. I would like to buy a roadster seat if anyone's got a spare?
OTOH, does anybody know if the Mk3 can be fitted? I know the fixings are different, I could make the brackets etc, there seems to be loads of Mk3 seats for sale.
Cheers
Paul 
To convert a MK3 seat to the previous type the cover will need to come off so new ears can be bolted on. RGM have the ears in stainless.
https://www.rgmnorton.co.uk/buy/seat-clips-ears-commando-pr_3120.htm
They do cover kits as well so a threadbare MK3 seat with tears could be made to look like new and fit pre MK3.
Self tapping screws could be used but nuts and bolts with decent washers would be better,
Thanks guys, excellent news.
Paul