Hi all, I am thinking of replacing my late Navigator silencers and down pipes and see the NOC shop sells the late silencers made by Brituro who I have no experience of and can't find their website on line,  A search on line shows Feked sells the correct silencers and Armours sells both but the down pipes are a slightly different design from the original which I'm not keen on.   There are also several options advertised on Ebay with the correct down pipe design (tapered silencer end).    I have had disappointing results with Armour products in the past so not keen on repeating that.  Can anyone give a strong recommend for a good quality supplier of both?   Cheers Nick 
The downpipes on sale on eBay with the correct taper a very good. I have a pair on my late Navi for a while now - was very impressed with the one I got - not sure if this is the same supplier, though. Currently on sale as eBay item number: 253961937523 - Last one...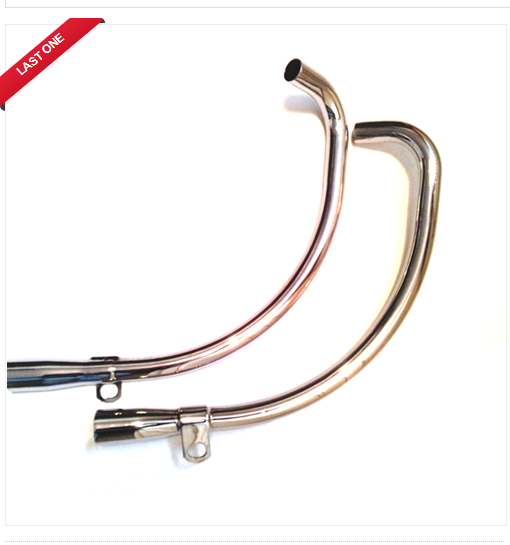 Thanks Andy, thats really helpful!  I saw those last night and wondered if they would be worth buying so I've now snapped them up!    Any advice on a set of good quality silencers anyone?   I've never used Feked but seen good reports elsewhere and if their web site claims are to be believed they might just fit the bill.  As an aside have you ever managed to fit the right hand exhaust pipe and silencer so the kick start doesn't tend to brush against the silencer when starting?   I have never quite achieved that despite lots of fettling over the years on my Jubilees or the Navigator!
Nick      
Not such an easy topic. If you study catalogues (not always a faithful representation) or period photos, it seems that the current offerings are not quite right. I've never bought a silencer that my kickstart never wallops, for example. Looking closely at the old pictures reveals a shallower taper than the current offerings. Early Slimline Dommies were similar!
What caught my attention is a recent acquisition of a late, low mileage Jubilee from the USA - pictured below - along with 1965 Navi catalogue picture and a 1964 Jubilee (Navi used same silencer). An appropriate Domi picture too. The Feked silencers shown are very good - but too fat at the front - compared to originals, and in my experience, catch the kickstart on L/weights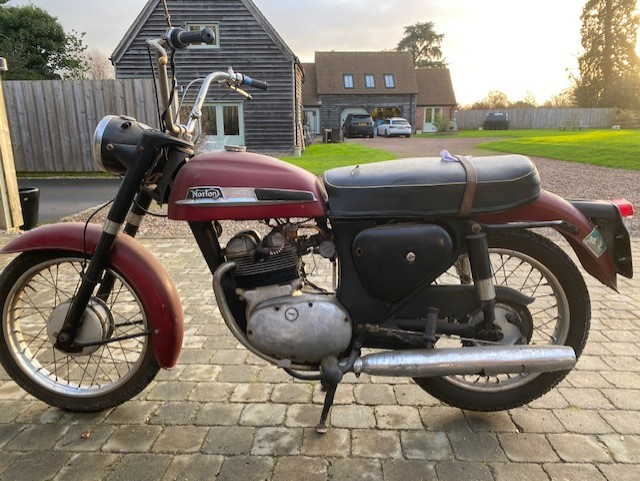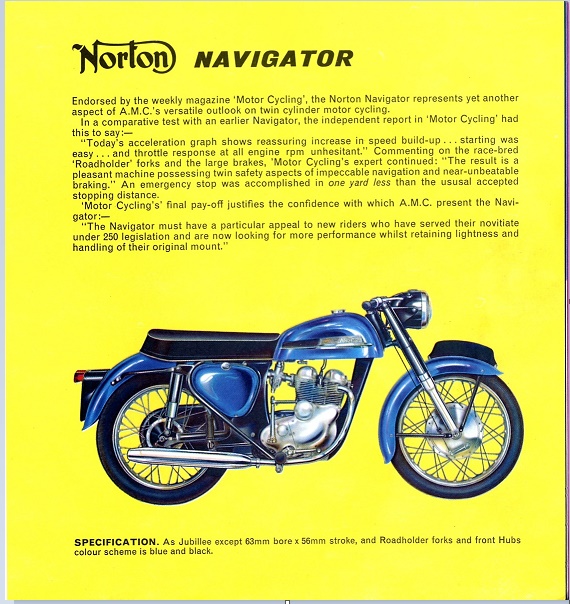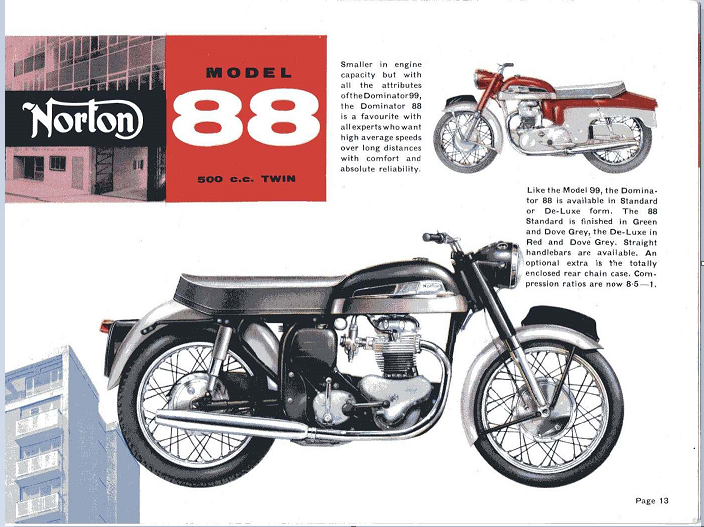 As an addendum - last time I looked - Feked are closed during the Covid-19 crisis.
The price is each, of course
I have also a pair of Armours downpipes on my Navi. Just noticed they don´t have that taper, err!
I got the bike with only one pipe, a pair of good late silencers and a pair of the early type (Atlas-) silencers with broken ends where the clamp goes.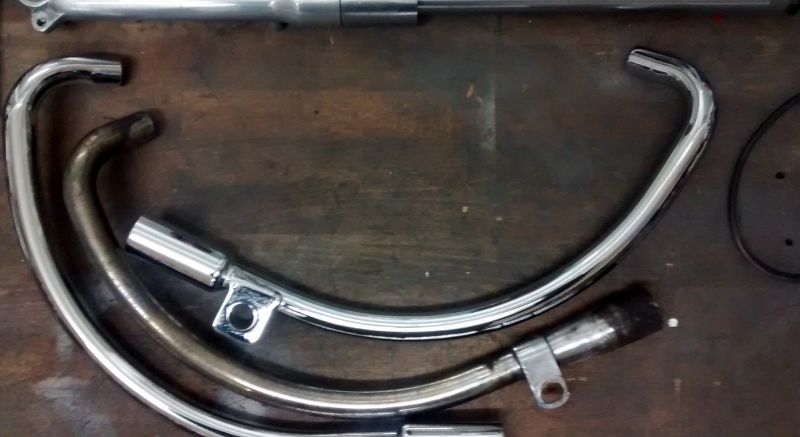 The holes on the downpipes for the footrest bar are very large. I had to use big washers to get the pipes fixed.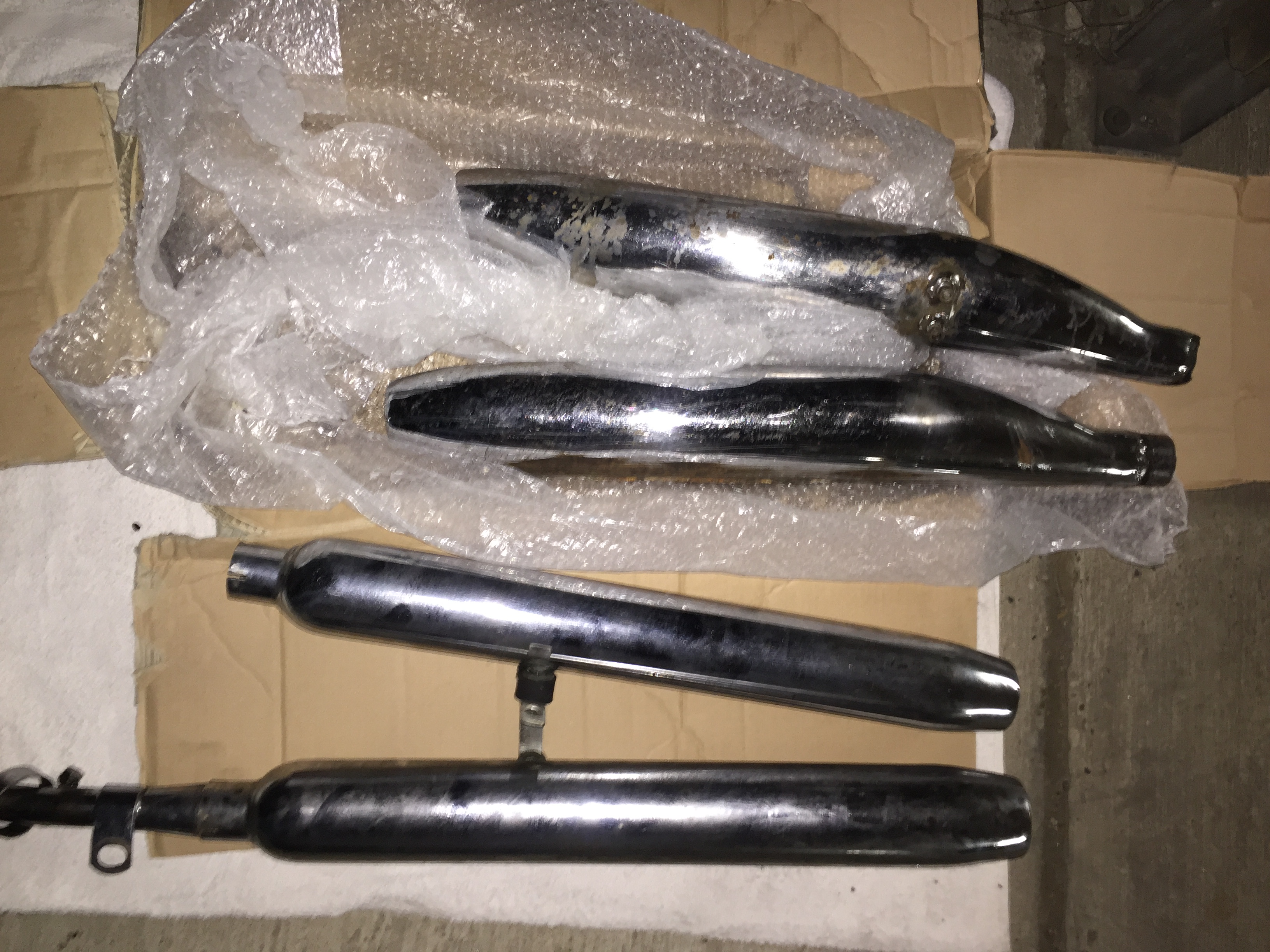 Yes - Armours pipes have never been right - but thats all we had back then.
In your lower picture - the silencers at the top are used on Birmingham made bikes up & including 1962. There was a R/Hand one, and a L/Hand one.
At some point (not known at present) the silencer design changed as in my photos above, and similar-ish the the bottom pair in you picture. It was now the same both sides.
Sadly, the Feked one in my picture, and the pair in your picture may foul the kickstarter lever.
In addition, were you aware that they used different silencer mounting brackets? The earlier brackets hang straight down & all the holes are in line, while the later silencer mounting holes were futher back - & the mounting holes were staggered. First one is (early) 21590 for both sides, although there is one with extra clearance 21159.
Second one is (late) 22464 (& 24643 for other side)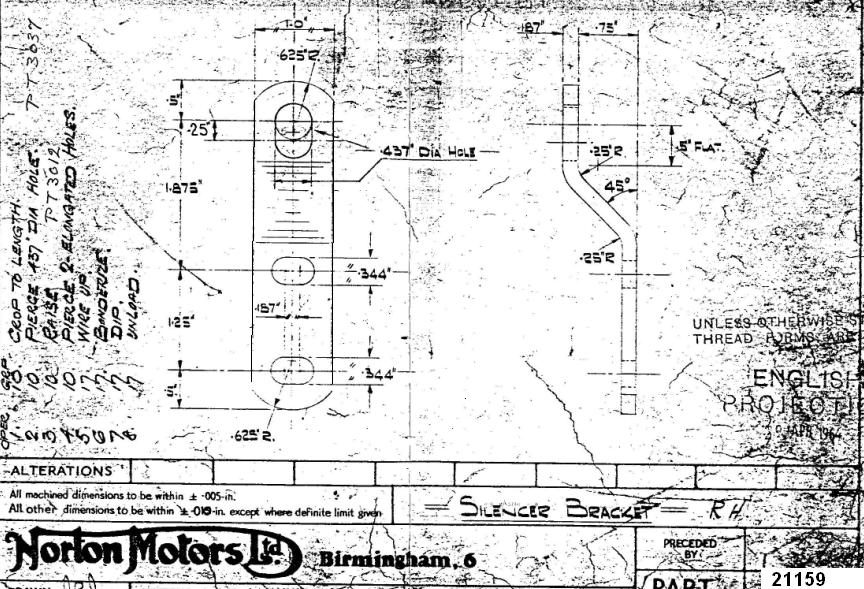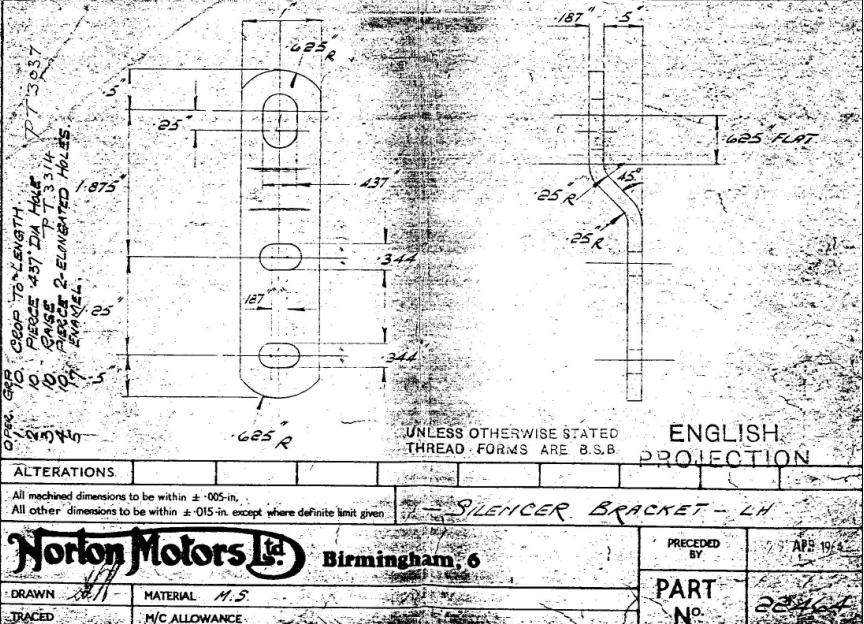 Thanks for all that information Ulrich and Andy, a typical complex Lightweight web of intrigue!   I'm glad it isn't just me being too fussy about Armours - the quality and fit can be very variable and chrome can be poor.   I had assumed my rather battered but serviceable exhaust pipes and silencers are genuine because they look the right shape (from 40 year old memory!), fit better than most pattern parts I've used in the past and are surviving remarkably well because the chrome, whilst worn must have been pretty good quality.   At first glance the silencers look almost identical to your American Jubilee Andy (I am very envious - what a fantastic recommissioning or restoration project, I love late Jubilees!).   It was only when I looked at your 1964 brochures and the Feked silencers that I can see the difference in front profile which probably means they miss the kick start!   I know mine has the later mounting brackets but I didn't know that the right hand one had the additional clearance - I'm of to grovel on the garage floor and see if mine is the same!  I will report back directly!   Nick        
Well Andy, looking at my silencers (picture attached) I guess they are far more like Feked silencers than those in the catalogues or on the American Jubilee so probably not original.   I have checked both brackets (2nd picture) and I think they are probably original because they have the correct kink, have slotted holes and are quite substantial like your drawings above.   Unlike the ones in the NOC shop which look thinner and have circular holes and I guess are pattern parts.   That said mine both have the same off set - it is a May 1964 bike which might confirm what you said above about the larger off set being a later modification.  As you rightly point out Feked are closed but their website suggest they might open for orders tomorrow - in the absence of any correctly profiled quality silencers I might just bight the bullet.  
By the way the eagle eyed amongst you might notice that my rear wheel has two spokes missing after they snapped.  I am now agonising over replacing the spokes or to go the whole hog and replace the rim, spokes and refurbish the hub?!   More expense looms......
Thanks again for all the help.   Nick               
Hello these light weights are just like big twins all aftermarket stuff like some pipes and silencers are all wrong diamentions As I do have A pair of the Original Navigator silencers and they look like the bigger twins until you put one side by side and see the Navigator one is smaller in ever way and 23inch long Not 25inch long And smaller in the diameter as well I have  no idea about the pipes as yet as I have not got that far I am still in the strip down and clean stage, so I will see in the rebuild stage Yours. Anna. J 
I had a pair of Armours "Dunstall" megaphones on my Jubilee in 1977 , boy that was loud ....., ended with me in court! 
I now have a pair of club silencers which fit ok, but I did make my own spacers and brackets 
Dan 
Your silencers are indeed (like mine) more like the Feked ones. In fact, mine ARE the Feked ones!!
The silencer bracket you are showing - its hard to tell from the angle of the shot if it its genuine.
The correct brackets for your (late) Navigator are PNo 24623 L/Hand & 24624 R/Hand and are sold by the NOC - & are currently in stock.
They have been made to an existing drawing.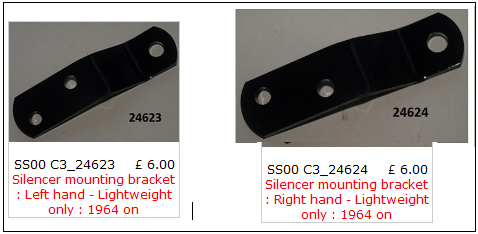 As for your spokes - its possible (I've done it) to replace them in situ. Let the air out of the tyre with the bike on its stand. With a couple of clamps, it should be possible the move the tyre over above where the spoke nipple would be. Introduce the spoke from below observing if it goes over or under its neighbour. I found I had to introce a gentle curve (bend) to get it to line up. Once in place straighten it as best you can - the tension will then do the rest of the work for you. Ensure no spoke emerges from the top of the nipple. Dremel/vacuum may be required. When finished, replace the Rim tape, release the clamp(s) and pump the tyre back up.
If you have broken spokes - replace asap. as an extra burden is placed on the remaining spokes.