So after 9 months in the building I've finally finished my Norton Metisse, well except for the front mudguard that needs a bit if fettling before I fit the proper one. For those that don't know Metisse roughly translates to mongrel in French and was chosen by the Rickman brothers because the bike is made from a variety of parts. 
My project started with the purchase of a rather battered ES2 trials bike that came with a spare frame. I also has some wheels and a gearbox so the idea of building a bike from bits was born, I had the frame powder coated but then saw the Rickman frame kits for sale at a very reasonable price and my head was turned! My 6 week wait for frame turned into nearly 6 months but it was stunning when it arrived. 
By this time I had bought a "reconditioned" M50 engine which I sent to Mike Pemberton to work his magic, sadly when he took it apart it looked like it had been used as an anchor and was pretty much useless, although it did give wasp a set of cases to build the frame mountings around. A club member in Cornwall - sorry I've forgotten your name ! - came to the rescue and sold me a complete but seized M50 engine that had been under his bench for years, we didn't need the barrel and piston, this one was in much better shape and Mike worked his usual magic. 
I rebuilt a Matchless gearbox with a kit from RGM, and bought a clutch from Dave Coates, a pair of Reiger shocks from Kamar motorsport, I found a pair of Marzocchi forks and a Matchless front wheel at Netley which Terry Weedy machined to fit normal bearings (the Matchless wheel has tapered bearings). Strangely the brake plate was chrome plated aluminium which was looking a bit rough, so I started to sand off the chrome to reveal the nickel underneath which I left because , a) it was damn hard to sand and 2) it matched the frame!  The rear wheel is a magnesium drum brake KTM wheel and I found a second hand inner Enfield chain case and bought a new outer from Hitchcocks. Chains cables and levers etc came from RGM and Feked, Talon supplies the sprocket and a guy in Scotland the swinging arm chain protector (actually for a CcM). I bit the bullet and bought a new BTH mag, and JEK did a fantastic job on the exhaust and inlet manifold adaptor.
That was the easy bit, assembling was straightforward enough but I lost count of how many times the engine and gearbox went in and out! I also had to make a chaincase spacer to get every thing to line up. 
So you can see why the Metisse name is appropriate!
Yesterday was start up day, I took it off the bench and wheeled it out into the sun, petrol on,  choke on ( oh and Surrey cycles provided the carb) -couldn't make my mind up whether to leave the coke fitted, but decided to in the end, tickled the carb brought around to compression, eased it over with the decompressor and gave it a big kick - I had a big grin when it started first kick! 
Sadly it stopped and no amount of kicking on a hot September day would bring it back to life until I decided to ditch the new old stock champion plug for a used NGK borrowed from the jubilee, at which point it started first kick again - lesson never use Champion again! 
Still some fettling to do, but my first and only race this season is on Sunday when it will get a full shakedown- in more ways than one I'm sure, but it pulls like a train and handles beautifully. 
Let the fun begin! 
Dan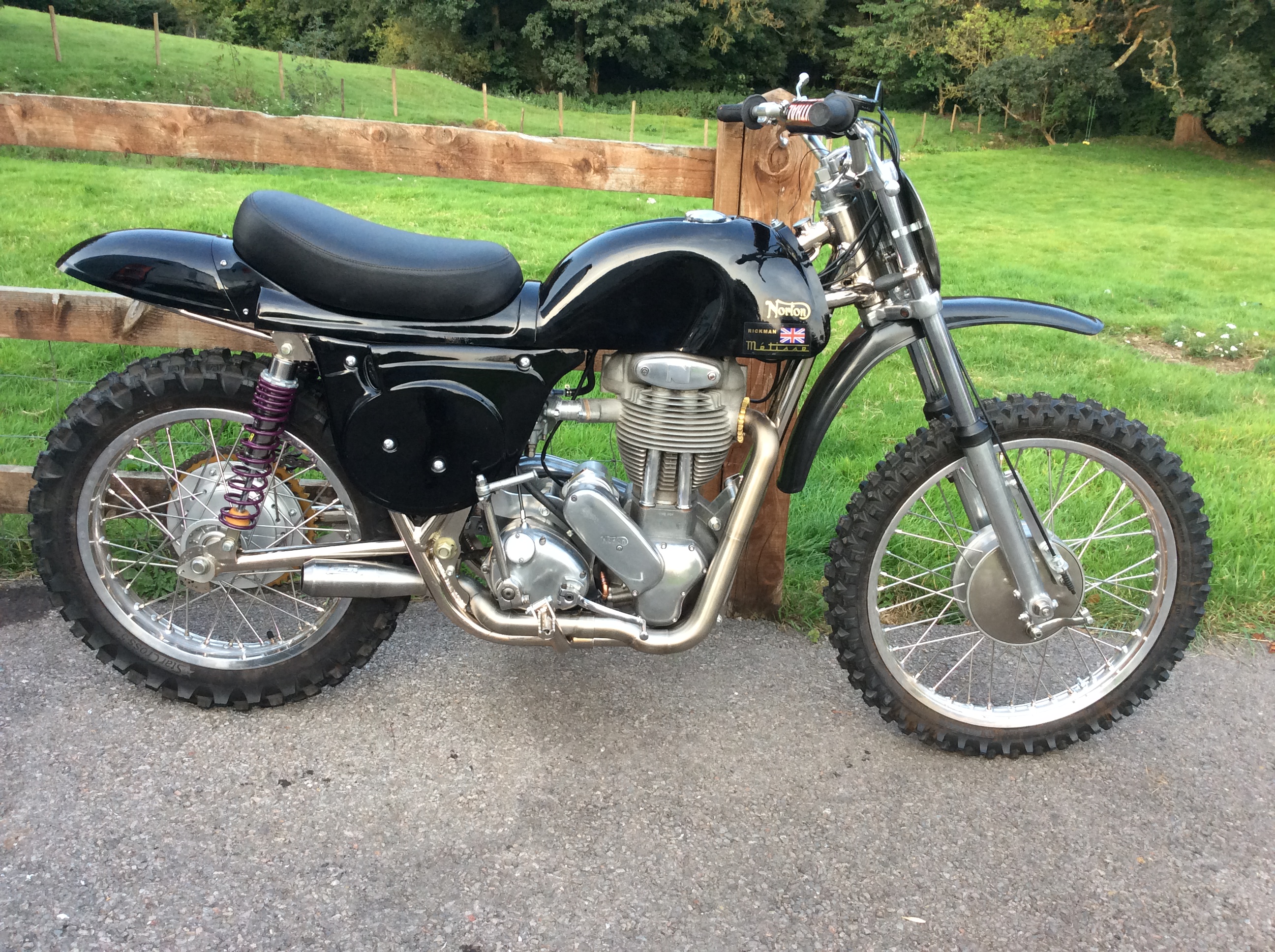 Wow Dan - that's a classic case of "when it looks right, it is right"! Always satisfying when they come together and "start"!
Bruce
Wow Dan.  That looks brilliant.  I don't suppose spectators are allowed to wherever Sunday's scramble is.  Shame, I would have enjoyed that.  My brother had trouble with Champion plugs back in the 70s and ever since, he will not touch them with a bargepole.  It's NGKs all the way.
Excellent mix and match of parts to build a quality special that looks just right to my eyes. Good luck with the race
Hi Dan, superb and Norman is spot on regarding the exhaust.
What is your next project?
Regards
Dick
Not just a collection of bits; the right bits for the project. Very nicely done and painstaking detail  to get get it right.  I had the reverse issue with NGK to Champion; but the moral of the story is  "Always have another plug, preferably warm and free from fuel.
Enjoy it mister.... my joints are squealing at the thought of it!!
Jon
Beautiful Dan - I am envious. Seems a shame to git it dirty ( says the big hypocrite who rides all of his while others say keep them in a  vault )
Enjoy ! Richard 
Thanks guys, big day tomorrow! 
So what is my next project? Well I have another pre featherbed rolling chassis and a Navigator in boxes ....... decisions decisions! 
very nice, a real eye catcher. the best part is YOU built it and YOU own it. If anyone makes a negative comment on this or that is not correct. Just ask them where theirs is. If they say I don't own one tell em to be quiet until they do. This one is mine.
Yes you should be very proud of it it is a simply wonderful bike
I like Dans description of 'Mongrel'  - that is what I describe my 650 as too (although mine is 90% Norton, just not sure if/what pedigree.)
However,  to borrow a name used to describe many peoples first bikes, surely it is a FIELD BIKE?
PS: It looks wonderful. 
Well Done. 
George 
So Dan, how did it behave?  Does it look even better with some dirt on it?
Dave, I was worried I'd be spending most of my time fettling but actually it behaved superbly! The track was bumpy hard and dusty but it handled remarkably well, in fact I got a 6th in the first race! 
I think the only think I need to work on is the footrests which sit about 1 1/2 inches out from the chaincase and gearbox, I need to bring them in and drop them a little. It's fair to say that my internal organs were well shaken but I came off the track after each race with a smile on my face! 
Here are some pics.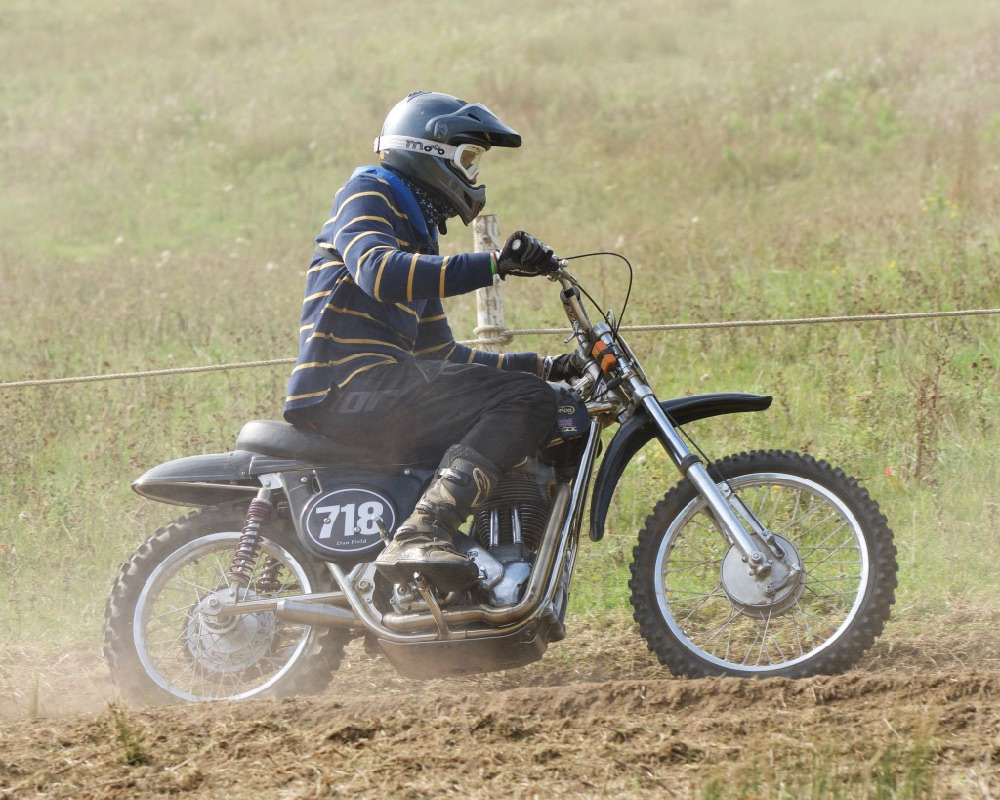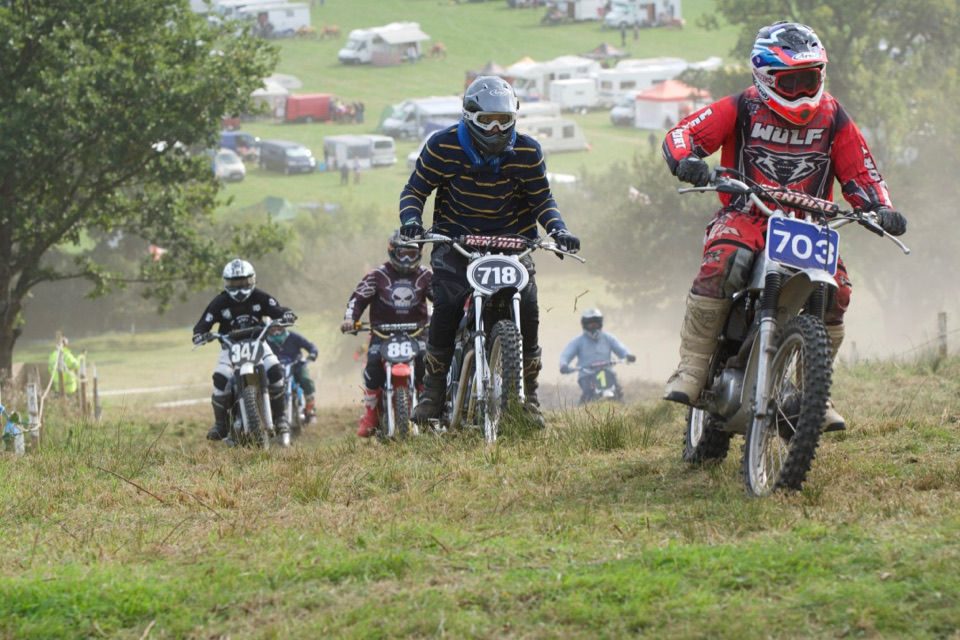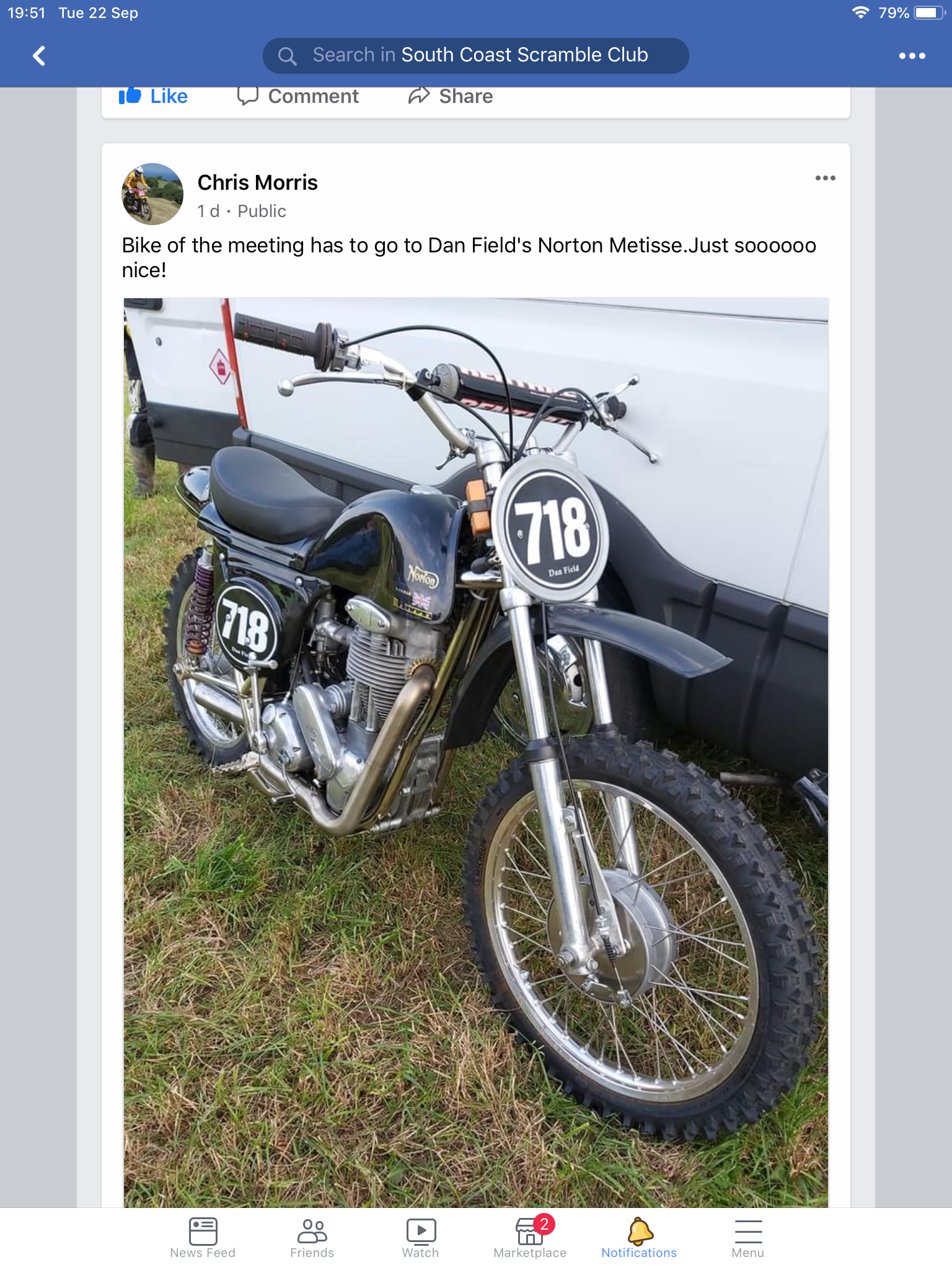 Well done Dan, when they're properly put together they don't need fettling and the most successful rider is the one with the biggest smile on the way home.
Before full face helmets you could tell a happy biker by the number of dead flies on his teeth.
Regards
Dick