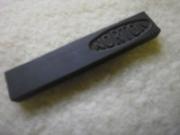 Can you identify this Norton related item?
Tim Wright has contacted the Club with a picture of a mystery Norton object he owns.  It was left to him as part of a collection of classic bike bits and pieces by his late uncle.
The item is made from a material similar to Bakelite and is 3 to 4" long.
If you have any ideas as to what it might be, please post a message on the Off-Topic board.