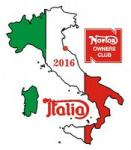 Got time on your hands? We have many pictures for you.
We now have the original photographs from the previously posted slideshow of the 2016 rally in Cesenatico.  And indeed, a lot more as well.   Go here  https://www.flickr.com/gp/145404898@N06/ap92gD to view them.
There's way too many of them (over 1000) to sort into any sort of order, so I've just uploaded the lot of them, for you to browse through.
Note, that for ease of uploading, I've resized them to 800x600 - if you want some full size (e.g. for printing), email me with the names of the ones you want (hover over the image, and the filename will appear in the bottom left corner), and I'll email them to you.