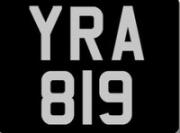 Mark Perkins is looking for his Grandads Dominator
Mark Perkins enquires:
"Hi,
Me, my brother and my cousins have all been trying to locate our grandad's Norton 500 Dominator registration number YRA 819 to see if it's still in existence and on the road, but without any success. He died in 1973 and our Grandma sold it to stop any of us squabbling about who is to have it. All we'd like to do is locate it, with the owners permission, and hopefully see it so we can relive our childhood with the bike that got us all hooked on motorbike.
We really hope you can help and look forward to your kind response
Many thanks and regards

Mark Perkins"
Contact Mark if you have any information