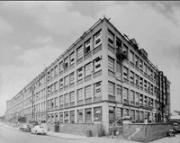 A new web site devoted to the history of Associated Motorcycles
NOC Member Bill Cakebread together with another ex-AMC employee Peter Attwood has for some years organised a biannual get-together of people who used to work at the Associated Motorcycles factory in Plumstead.
Before all the information and memories of the AMC days are lost, they have set up a new web site about the factory and its people.
Take a look at Working at AMC where you will find some interesting stories and pictures.  The authors would welcome any additional material for the site.