Hi all
Does anyone have pictures of the front facing brackets for the tool tray - Norton Jubilee 1960 deluxe, part numbers 21365a and 21366a
Garth
Hi Garth,
After some Google research I found these to pictures of the Jubilee De Luxe frame.  The first (Deluxe diagram) is from the parts manual which only really shows how the tray is mounted by a single bolt at the back to a bracket welded to the frame cross spacer (19) and two bolts vertically at the front.  If you look very closely at Uli's photo above you can see them.  There is a single lug at the front with a captive nut which the tank is bolted to.  What isn't clear from the diagram are the two brackets running back from the frame cross spacer (17) at the main vertical fame member - I think the right hand one is highlighted (80).   If you look at the attached photo of a bare Jubilee deluxe frame (Deluxe frame1) and magnify it you can see them pointing back wards.   I have highlighted them in a second & third photo (Deluxe frame 2 & 3).   I don't own a Deluxe but I am pretty certain the photos are correct having owned a denuded Jubilee back in the 70s which still had the tool tray.   Mind you that was a long time ago and memory is a fickle thing!   I hope that helps - let us know how you get on and post some photos as you get on!
Cheers   Nick         
I have a Deluxe tool tray and tried to fit it to my standard Navigator. It did not work because there is a special bracket for the rear frame channel with a welded on nut for the rear tank fixing bolt. This is not used on a Deluxe frame.
I highlighted the brackets for the tool tray in the diagram with red.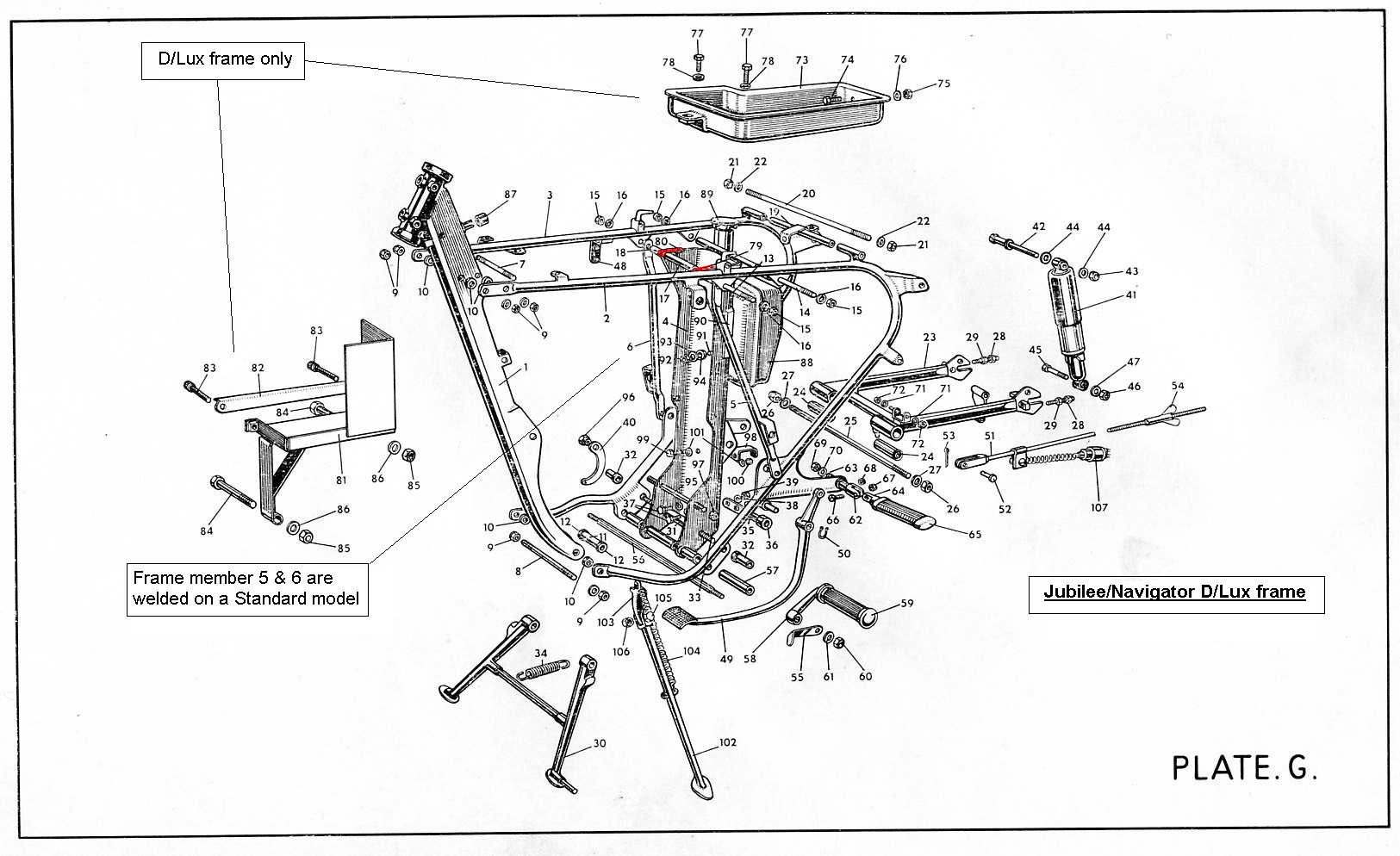 Hi again Garth, Uli's post confirms my suspicions - sadly we haven't come up with a close up.   Hopefully a Deluxe owner or Andy will come up with one for you.
Hi All
Many Thanks for the tool tray bracket details, really helped me in the re-manufacture of the LH and RH brackets.
My best interpretation of their shape unless someone has some "closeup" pics...
I also added nuts to the brackets to make it easier fitting  ..... see attached photos..
Thanks again
Garth
Thanks Nicholas
I posted a reply with details of my manufacturing efforts
Garth
A beautiful job Garth, Ulrich is right, better than the originals!  Keep us up dated with the rebuild.  Nick
Hopefully the attached might help a little...…….
Colin Low's pictures above are the original factory version