Having sadly lost my electra rear wheel when it was being transported (left on the side of the  road) I am now looking to replace it. I have been offered a wheel W M 3 -18 is this the correct one  I think it came from a Commando. Thanks Bryon
The commando hub is similar so can probably be made to fit ,however only someone who has fitted a wm3 rim  with tyre  to an Electra would be able to confirm clearance for it to work (not me!)
Normal fitment for the Electra is WM2-18 - WM3 is wider.
WM2 inside 1.85" (47mm) outside 2.72" (69mm)
WM3 inside 2.15" (55mm) outside 3.080" (78.2mm)
There is not much space to the left of the tyre (3.25 x 18) between it and the mudguard, so stick with WM2, and use an old fashioned 'square looking' tyre. A modern one may rub on the mudguard.
Czech company Mitas make exactly the right tyre:
https://www.mytyres.co.uk/cgi-bin/rshop.pl?gclid=CjwKCAjwssD0BRBIEiwA-JP5rADJWLXxmCdPu5BMjVtlunbrugR140jCtsQkv-KjWdU0A7q91h7GURoCe2wQAvD_BwE&dsco=110&typ=D-M61078&partner=1&m_s=1&partner=1&Country=UK&ID=sea_rd_uk_Froogle_Shopping&ef_id=CjwKCAjwssD0BRBIEiwA-JP5rADJWLXxmCdPu5BMjVtlunbrugR140jCtsQkv-KjWdU0A7q91h7GURoCe2wQAvD_BwE:G:s&s_kwcid=AL!432!3!400317375299!!!u!297461690331!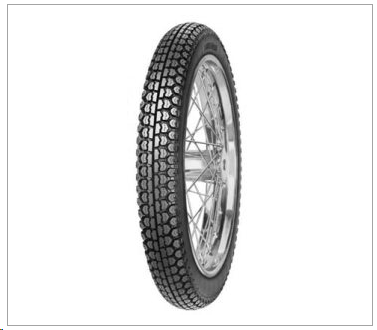 As for rim offset - it will be trial & error - the tyre sits halfway between the suspension units, and a bolt up Commando hub will do the job. The Electra brake drum is the same as Domi/early Commando - but with a thinner chain wheel welded/brazed on. Sprocket = 52T, chain is 1/2" x 0.305 x 120links.
On my other Electra I have fitted Road riders 100/90-18 on the back 90/90-19 on the front I find them very good on hardtop poor for off road. The clearance is ok with these sizes. The problem is I bought 2 of the same for this bike. I am now left with the front one. Would the road rider R-R tire 100-90 fit on a W M 3 rim apart from clearance problems. Also is the spindle the same size.Thanks  Bryon
Commando rear rim was 19 x WM2, more likely an Atlas wheel with cycle threads not unf on the hub.