Is there a specific amount the valve is held open by the decompression mechanism on any big bore single?
... just a few thou and I was surprised how such a small amount had such a significant effect.
As little as possible and it still work as a decompressor, that reduces the risk of say a stiff acting cable leaving the valve slightly open and burning the valve.
Will someone please tell me or send me a photo of the cable routing to the lifter shaft?
Mine seems to come in from the rear which makes the run to the handlebar very awkward.
Thank you.
Richard
Valve lifter cable comes in from the front.  I'll attach a photo tomorrow.  To late to get out in the shed tonight.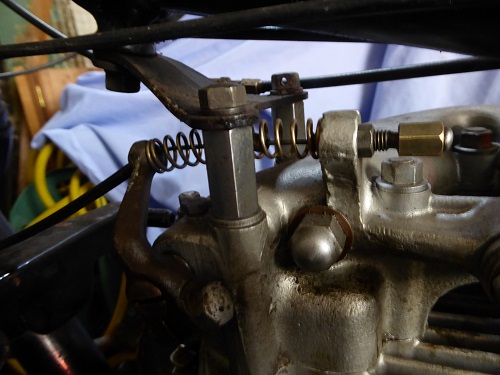 This is how I run the valve lifter cable on my singles (this is a 500T).  The inner cable goes to the adjuster and the outer cable to the valve lifter arm.  This gives a nice easy and short route to the valve lifter lever on the handlebar.  The spring in this photo is not the correct one , it should be a volute type spring, i.e. like the one on a pair of garden secateurs.  I don't know if this was the original cable route but seems the best one to me.
Below my arrangement on a Featherbed Single.
In the search for jobs to do I am presently in the course of removing the lifter shaft to grind in a groove for a thin O-ring to stop the slight leak shown.
Thank you all, I know how it should be set up now.
I'm not sure I have the correct cable, I'll check using your photos, tomorrow.
Thanks again.