Has anyone got a picture of the underside of a deluxe seat, I'm building a standard Navigator but want the tool tray under the seat and the quick removable seat, I used to have one but have forgotten how it worked! I have the tray, spring clips and extended shock bolts.
Cheers 
Dan 
Someone must have a picture of the underside of a deluxe seat, or be able to describe how it attaches and unattaches?!
hello well  if I remember right Lightweight  seats were  just like the slimline featherbed models  with two hooks at the front next to the rear of the tank and a dezus quick fasting at the rear  Yours  anna j     
Thanks Anna, you are right, but I found this thread (which I couldn't find earlier!) https://www.nortonownersclub.org/node/7568. Apparently the early deluxe didn't have the dezus fastener, it had two Terry clips, that clipped around extended shock bolts, that's what I have, so will see what I can make up! 
Many thanks
Dan
Dan - have a look at the attached pic, I understood this was from a de-luxe when I bought it but I'm modifying it to fit a Std.  Pic any use?
Hi Bruce, 
Thanks yes it is, very...... if only because it looks like my seat base! I'm not sure but it looks like your  rear brackets have been opened out to fit the terry clips for an early deluxe seat, or maybe they made them like that? Thanks to your pic I now have a plan, in my head at least! , how to fit my seat. I've pretty much finished the Jubilee as a rider rather than a show pony ( still looking for a 6 1/2 inch headlight shell tho) and am now trying to build a standard Navigator from a deluxe frame and all the other bits I've collected!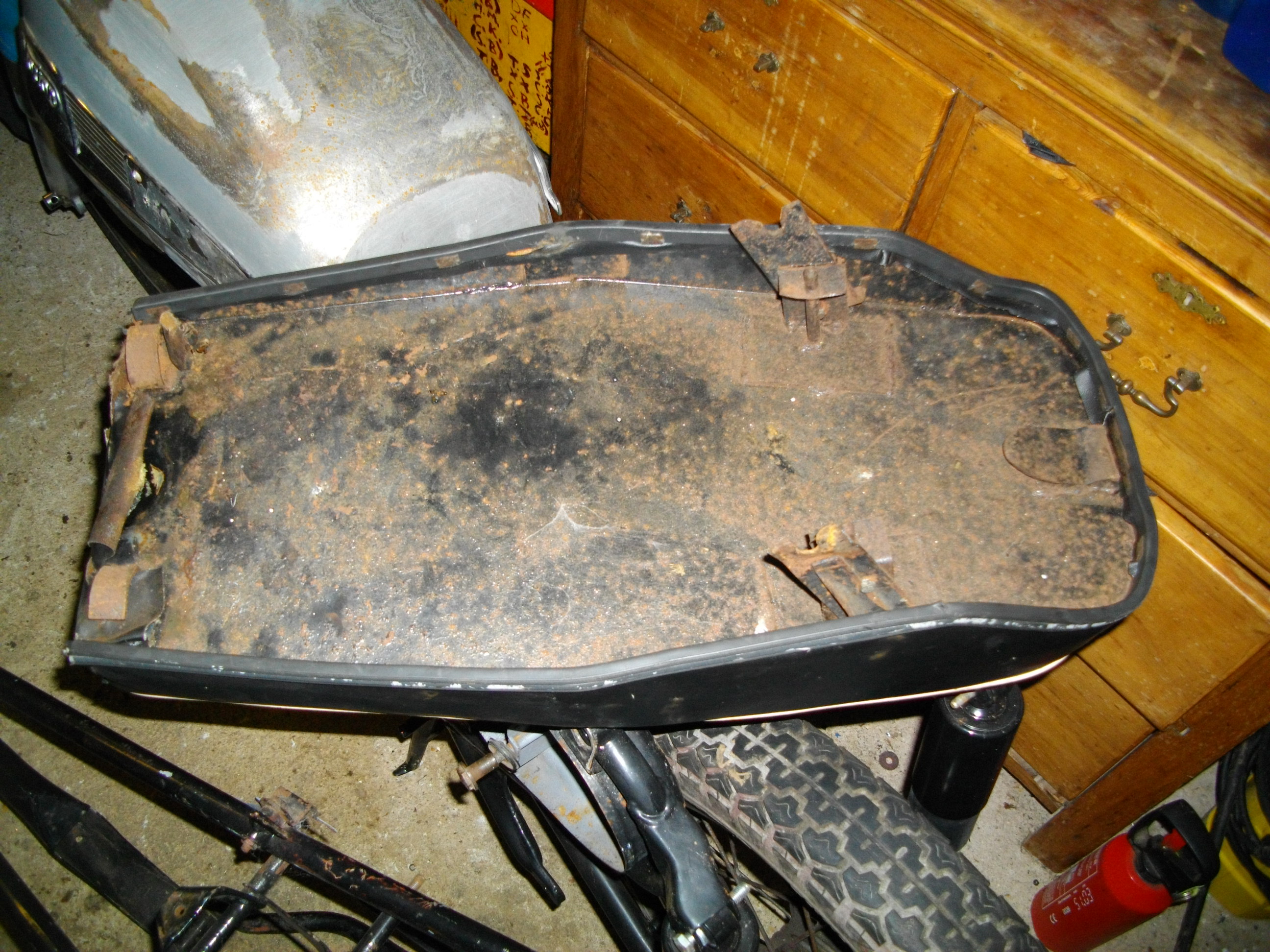 Ummm - think I might have a spare 6 1/2 headlamp bare shell.  Bought one meaning to refurb it but a complete NOS one came up a few years ago which I bought.  I'm away from home at moment but I'll check during start of next week, if it is then your welcome to it
Bruce
Dan, this is the underside of my original Navigator standard seat as I bought it. The rear mounts for the shock bolts look different to your mounts. I was also thinking fo a quick detachable seat. Maybe the shock bolts can be converted to accept the seat knobs of a Norton Commando or vice versa?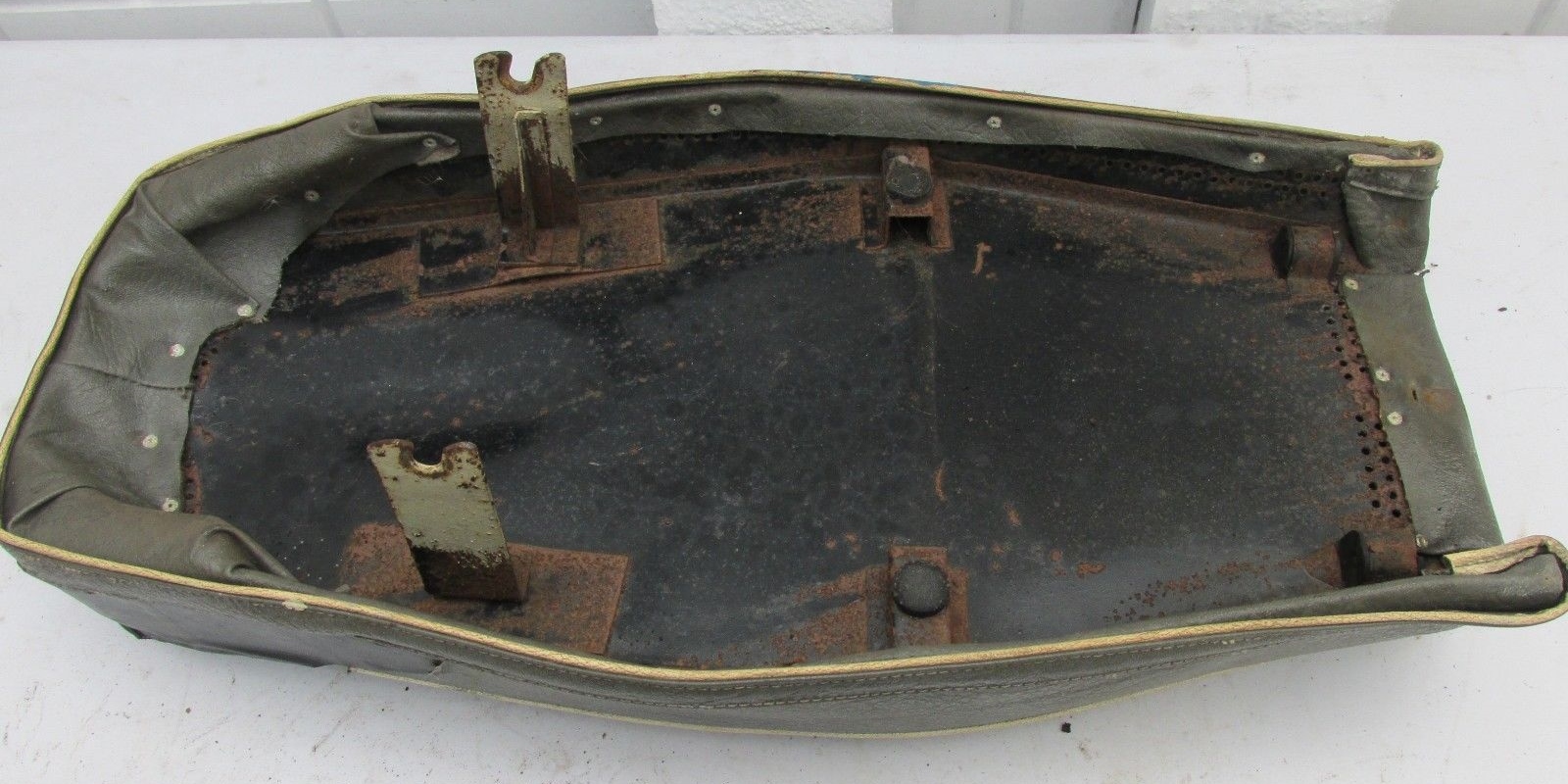 Hi Uli, I hope your engine problems are behind you!  My seat was for a deluxe, you can see the cut off bracket at the back that used to attach it to the rear mudguard, the 2pins held it in place, along with the front rubbers, My plan is go down the early deluxe route, I have the extended shock absorber bolts and will widen the slots in the rear brackets and weld a plate to accept the terry clips like this one, which Bruce posted : 
Hi Dan - OK, I've just measured my spare headlamp shell and it IS a 6 1/2 one.  Your welcome to it for cost of postage (unknown as yet).
pm me on here with your details if your interested
Bruce
Hi Ulrich
Your Seat is for the Standard Navigator - and fits between two spacers and is then held in place by tightening up the Shock Absorber bolt, which also holds the mudguard. Dans De/Lux seat has a different arrangement that just clips down into place - like the Dommi De/Lux seat showed by Bruce Firth-Clark
Hi Bruce - your seat has exactly the right fastening that Dan is looking for at the rear. Yours is actually a Slimline Featherbed seat off of an early Dommi De/Lux, as the two mounting rubbers at the front are closer together than on a Jubilee.
Later D/Lux seats (Dommi & Jubilee/Navigator) had 'L' shape brackets with a prong, that married an inverted 'L' shape bracket on the frame - that had a hole to accept the prong. At the same time, a tab with a Dzus fastener was added at the rear.
Thanks Andy - i had realised it wasn't a jubilee/navigator seat, as you say the front mounting points are spaced narrower than what I need - but it's good to know what it actually comes from! I'm sure I can modify it fully to fit properly, a bit of cutting & welding to suit the new foam & cover & frame - I do like a challenge!
Hi everybody,
I have a 1966 Jubilee in bits which I am starting to rebuild. It has a tool tray but I am unsure how it attaches.  Does anybody have a picture of the tool tray in place?
Regards Glenn