Hi
I am restoring a 1954 Wideline dominator with a bolt up rear frame section. It looks like the rear section has been modified with the vertical tube attaching to the main frame where the rear pillion footrest should be. I think the tube should be bolted to the lug above. I am probably going to have to refabricate the this part of the frame as i cannot find a second hand one. Are there any drawings or dimensions for this rear section ?  Or is it just a case of measuring from the data points i have on the existing frame and mudguard. Replacement frame parts seem to be available for the later frames but not the bolt up ones so i suspect it will mean fabricating the rear section.
Thanks 
Pete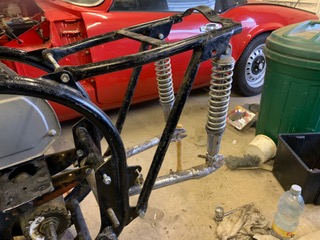 hello well I own a1954 domi model 88 so all is not lost  See andover Norton for Frame parts  Yours  Anna  J 
Hi Peter,
Attached is a photo of what the rear loop looks like.
If you want any measurements pleaselet me know. Andover don't have the part available. I tried a few months ago. 
Thanks Ian - that is really helpful. The dimensions would be great - do you have the tube diameters as well ?  Do you have a photo from the side of the bike as well you could post ? thanks so much. Pete
Hi Pete,
I was just about to add the side shot so here it is. Information on this model is very scant. I was looking for an engineering drawing of the frame but without success. Slimline drawing is available but not wideline. My machine was shipped from the factory to the US and has been raced so I wanted dimensionsto check frame for trueness.
I'll add some dimensions once I can get back to the workshop.
thanks Ian - really appreciate your help. There seems to be very little information out there. 
Hello Peter, I have a retired fabricator friend who made two of these rear frame sections having copied mine. One of these was for an NOC club member who then didn't  get back to us. He still has the two s/frames and asked me a short while ago if I knew of anyone who would have a use for them.
He and I both live a short distance East of Reading, if you care to contact me I will put you in touch.
Hi Pete,
Sorry for delayed response but as we had just come out of lock down, SHMBO wanted to get away for a week.
Here's some dimensions for you:
Tube o.d.:   0.75"
Wall thickness: 0.10
A photo is attached to show the correct taper and radius:  The width of the inner sides of the tube at 160mm (6 19/64") gives a measurement of 115mm (4.5") to the centreline of the bend where the numberplate holder is.
The overall length on the horizontal centre line  from the shock mount union is 718mm (28.25")  and drops down 115mm (4.5") at the centre line.  The tube is parallel for the first 25mm before the tapering in starts.
Total horizontal length from the frame is 1524mm (60").
Internal width at frame is 85mm (7.25") and 216mm (8.5") at the widest point at rhe shock mount.
Hope this helps.
Hi Ian
Thanks for mentioning this. That would be really useful and would be keen to follow up. I would be interested. My mobile number is 07990 530492 or my email is petebaynham@gmail.com. 
Thanks again.
Peter
Thanks for the dimensions and additional photos Ian. Hopefully Ian H's rear frame will work out but if not your photo's and dimensions will prove really helpful for making one to fit. Thank you for taking the time to provide the dimensions. Cheers. Peter.
There seems to have been at least 2 different rear frames. one as in the photos submitted above & 1 with a plate welded to the upper rail & to the rear , sloped, downrail. (this latert one may have been 1953- Im not sure)