I am faced with trying to repair/refurbish the original chrome/mild steel rear mudguard on my 1972 750 Commando or replace with a new stainless version from AN.   Both routes have advantages and disadvantages but can anyone tell me please how close the stainless version looks versus the chrome version?  Am temped to go stainless but not if means the finish will look significantly different.
Regards to all
Rick
72's came with the stainless guards, mine is original and stainless, in good condition and going on 49 years old. They lack the lustre of Chrome but a lot of work with polishing will get closer than as supplied.
Think I prefer the look of stainless TBH, just looks more "Classy" IMO.
72 interstate were stainless
72 other,  painted or chrome (obviously steel)
same shape... so stainless is often substituted
Dave 20220X roadster original chrome, now stainless
Mines a 72 roadster , both are stainless ,and polish up lovely  .
If your front guard is chrome and a stainless rear doesn't look right chrome plate the stainless one. I'm no metallurgist but I would presume it is possible.
Cheers 
Dick
I just bought a new stainless rear guard to replace a sound but dull original that needs a session on the buffing wheel that I couldn`t be bothered to do right now, intending to consign that one to another project further down the queue but the new one is no better. It has manufacturing marks around the edges and is dull itself, so that`s going back. I fitted a new old stock one that I managed to pick up to the previous project and that one was perfect, no marks and proper shiny. Seems like a lot of things ain`t what they used to be!
According to AN's records stainless steel mudguards weren't introduced on the Roadster until 1973 (first used on the Interstate late '72).  With that in mind I determined to try to stay with the chrome version and bought one of the many new ones for offer on line.  This has served to prove the old adage that you get what you pay for!  The new one is indeed chrome but it is not quite to the original pattern (the cut out for the chain guard isn't tall enough and the "dimple" for the oil tank filter bolt is in the wrong position) and it lacks some of the pressing detail.  I did however find a new old stock mudguard for an Interpol which fitted so I've sent it away for plating.  Now on to the next job!
Thanks everyone
Rick
Are you sure the cut out is incorrect? On my 1963 Dommie there is an inset portion at front left of the rear guard that runs very close to the tyre. The slightly later bikes have the same pressing but the inset piece is cut away...on all the ones I have looked at it looks like it was cut away rather crudely with tin snips from the same component. Is it the same on Commando? Did they take the tin snips to it before assembly?
Hi David,
the mudguard on the Commando appears to be different than on the Dominator.  The attached photo shows the "dimple" that should line up with the oil filter bolt.  It's not really clear in the picture but the dimple is too low by approximately 15mm.  On my tatty but original mudguard the dimple lines up as it should.
regards to all
Rick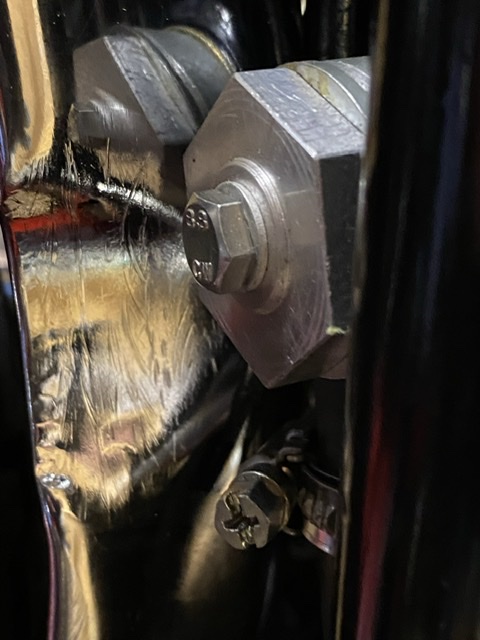 Mine is July 72 750 Combat Roadster- SS rear and chrome front .
That is close to year model change so not surprising. Remember UK model years ran differently to the US. Can be a pain, especially with repatriated bikes.