Now then...I now have a Registration number from the DVLA and have been for a trundle...clearly I have a gearing issue..30mph/2000rpm it rockets up to 100mph in 5th at nearly 7000rpm, any thoughts?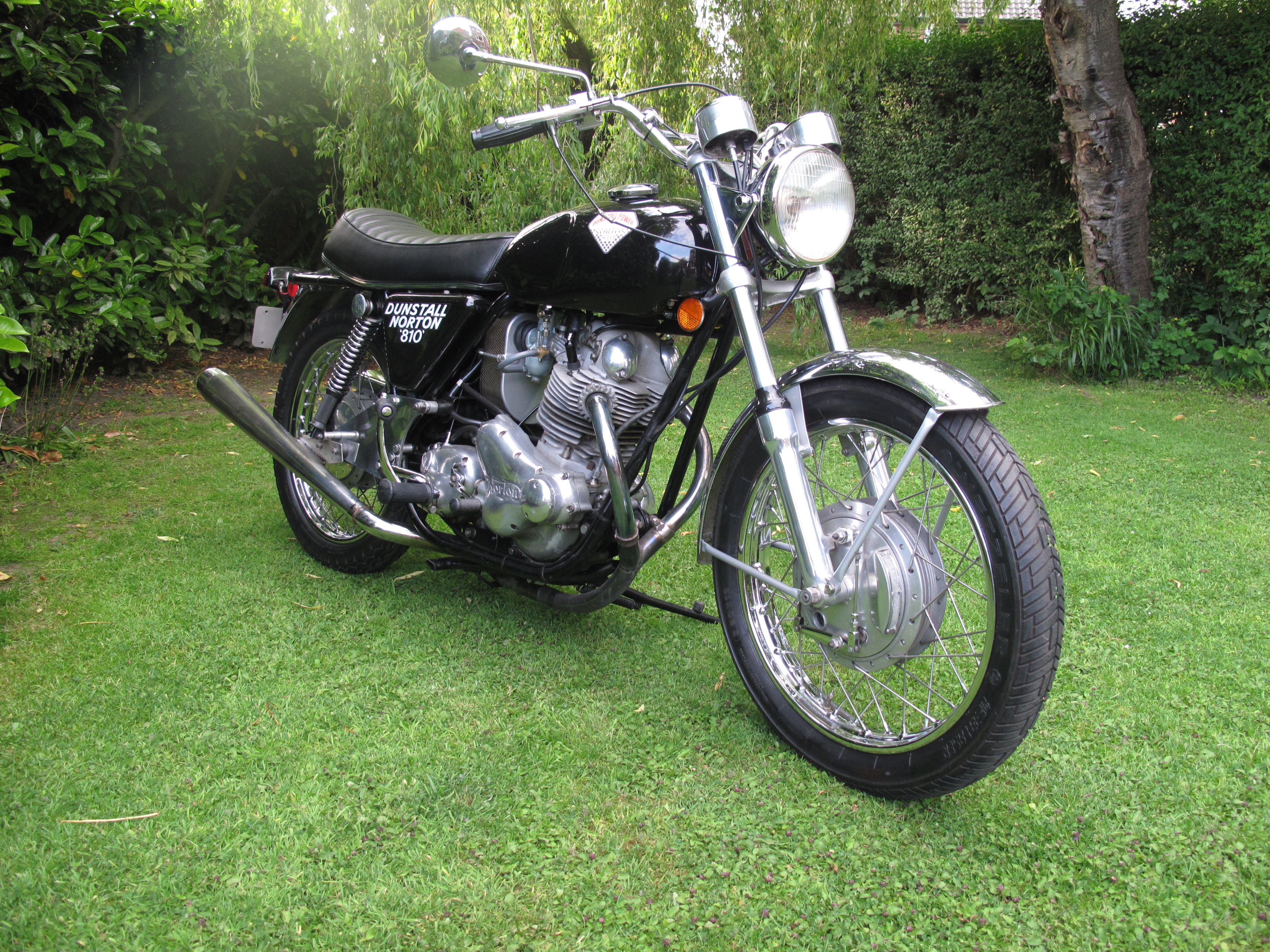 Start by counting the teeth on the sprockets, you also need to work out what gearbox you have as any 5 speed is a special.
If you look at the gearing commander website you can select a commando and see exactly what changing an engine or gearbox sprocket will do. 
Interesting bike. Your gearing is around 14.50 - 15.00mph per 1000rpm, way below a normal 850, even allowing for tach or speedo error. Your fuel consumption will also be lower than normal at typical highway speeds unless you,re lucky but you would be struggling at higher speeds with those footpegs and handlebars! Clip ons and rearsets would be spot on.
My modified Mk3 has a 21t front and 42t rear gearing. Fitted with a 25.50" diameter 18" rear radial tyre it runs to 7000rpm in all gears with a 5 speed Quaife.
Fifth is 4.38:1 overall, same as a standard 850 and 4th 4.84:1 same as a typical 750 (19t/42t)
This gives 17.36mph per 1000rpm and 121.5mph calculated in 5th gear but is actually nearly 124mph due to radial tyre growth of 2%. Crossply tyre growth is higher at these speeds.
The NOC chart is a handy mph/ gearing reference although overall ratios need to be worked out
https://www.nortonownersclub.org/support/technical-support-commando/gearbox-ratios#qro
Yes, its a genuine Dunstall Sleeper model supplied by the man himself, I even have hand written starting tips!
Mk4 cam 810cc 10:1 quaife 5 speed, starts surprisingly easily and ticks over like a Bloodhound lapping milk
1) How do you keep the front wheel on the ground?
2) You may want to upgrade your front brake.
Yes..it will wheelie in 1st second and third..front brake is fine...with the wheel in the air...ahem
If the the top gear ratio is the same for both 4 and 5-speed gearing, what benefit does it actually provide? For a track bike I can see that  it would be easier to keep the engine in its peak power range, but for a road bike, would it not just result in more gear changing?  There would likely be a reduction in load on the gear train (and shell), by not having to apply so much torque for acceleration with 5 speeds, so that could be helpful.  Is there anything else that would justify the expense for a road bike?
Much better gaps between the gears which I found very frustrating on my 4 speed, first second and third from memory of open road riding with modern bikes and riders of similar ability. In the Alps or Pyrenees type roads 5 speeds are more effective and makes for way smoother progress in my experience having used both 4 and 5 speeds. My old 5 speed FJ1200 could certainly do with a 6th gear overdrive, retaining the acceleration but more relaxed fast cruising. My 850 with standard gearing is all round perfect with the Quaife
Not sure who counts gearshifts during a ride. Most I find are intuitive, just part of the ride and I don,t ever recall thinking about using an extra gear, too busy enjoying the ride. If changing gears is a worry for a rider, just leave it in top and go for it
Some say there,s enough torque to cope easily with 4 speeds but the same, or more torque is even better with 5 gears. Down to personal preference really but I would never go back to a 4 speed. End of the day, do what suits your own needs, no point in overthinking or having to justify these things...
I suppose when My bike was first manufactured back in November 1971 with its Mk4 cam and high comp pistons etc it was imagined that it would be less torquey and the extra gear possibly useful..I have to say, given the gearing..It tops out very quickly at 107mph or so...But it gets there much too easily..ie in 5th just rolling on. It does make an interesting comparison with my last machine 1982 Triumph TSS?