Hi, I have a wide line Dominator 99 cafe racer with central oil tank. Has anyone fitted a oil tap with a electric cut off which prevents the bike starting if the tap is not in the on position. If so I would appreciate any advise and types used please. Regards Ian   
Hi Ian. I've bought a tap/switch unit from Kingpin Components (https://shop.kingpincomponents.co.uk). I've not fitted it yet as the engine is still being built, but it's a nicely made unit. It can be used with magneto or coil ignitions. The owner (Andy) makes the units in small batches so it's worth dropping him an email to see if he's got them in stock. He also sells them on eBay.
Regards
Tony
bought mine from FEKED , it utilises a front brake switch, you can use it to break the
LT feed to the coils , ive connected mine to a relay which opens and closes the main electrical circuit, mine does not have standard wiring.
Tony, thanks for posting the link for Kingpin Components .I liked the look of their device so much I've ordered one for my bike. Have you installed your yet? if so would like to see a picture.
Hi William. I've not installed the tap unit yet as my oil tank is still at the painter. I bought the female/female variant tap unit from Kingpin. I've also bought an oil tank filter with a male thread on the outlet side from Kingpin so that I can screw the tap unit to the base of the oil tank, which gives a nice neat setup. Finally I bought (also from Kingpin) a 5/16 spigot that screws into the other side of the tap unit to provide an outlet onto which the oil feed pipe will be fitted.
Regards
Tony
I bought a "magneto" unit from Feked (I have Electrex ignition).
I was initially pleased with the quality, but I soon realised that there was no space in a Dominator to fit it in using the two 3/8" BSP spigotted adaptors supplied.
The way I got round it was to use an RGM universal filter R2/392, which has a 1/2" 20TPI tapping (£26.28 incl), and a stainless 1/2" UNF to 3/8" BSP adapter from eBay. About £100 all-in.
For the Kingpin unit you would need a 1/4" BSP to 3/8" adapter and their universal filter.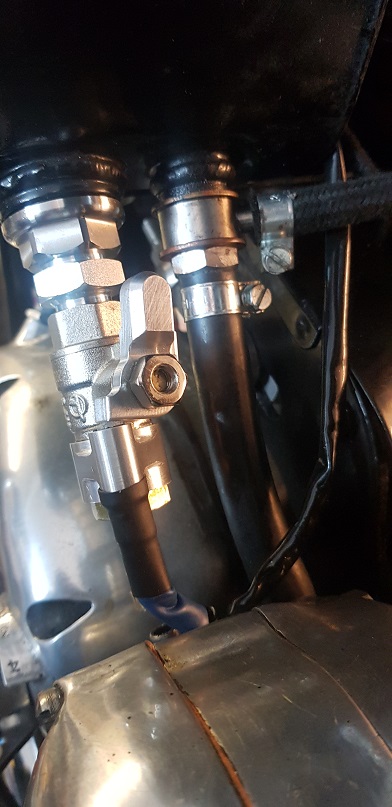 Steve, that looks good! have ordered mine and will post a picture once installed
I have now installed the Kingpin unit. Various ways of installing it, I choose to mount it inline with the thought it might dampen out some  of the vibration. Unit is on my1967 650SS. The electrical portion is very discreet , on my bike it interrupts the power supply to the Boyer electronic unit. Wired another way it can act as the ground connection for the mag if not turned on (valve in the closed position). I am impressed with the quality. If anyone has any questions happy to reply.
Hi Lionel. Yes, that's the one - it comes in two variants, so just make sure you order the correct one.
Regards
Tony
It needs 4 1/2" minimum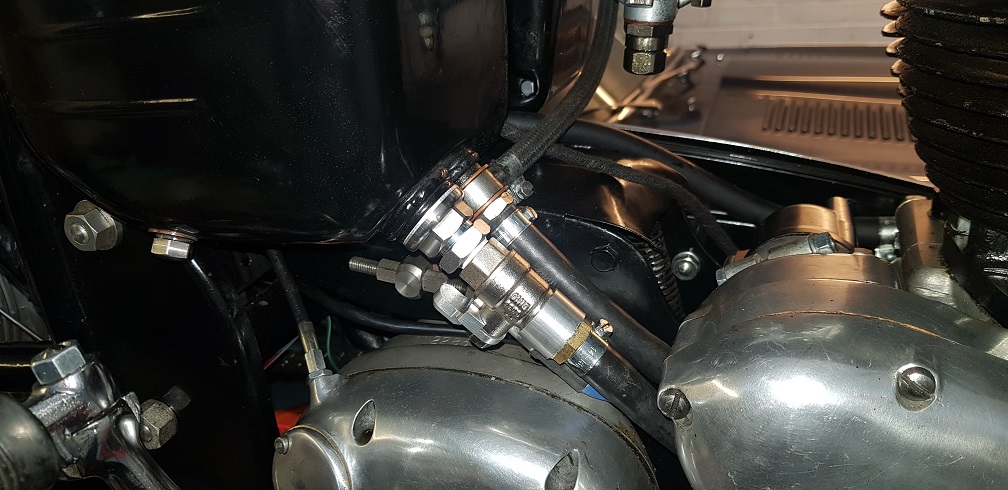 between the tank and the rigid feed pipe.