I would appreciate any Norton experts giving me help identifying the year and type of the bike in this picture. It is a picture of my father on his bike and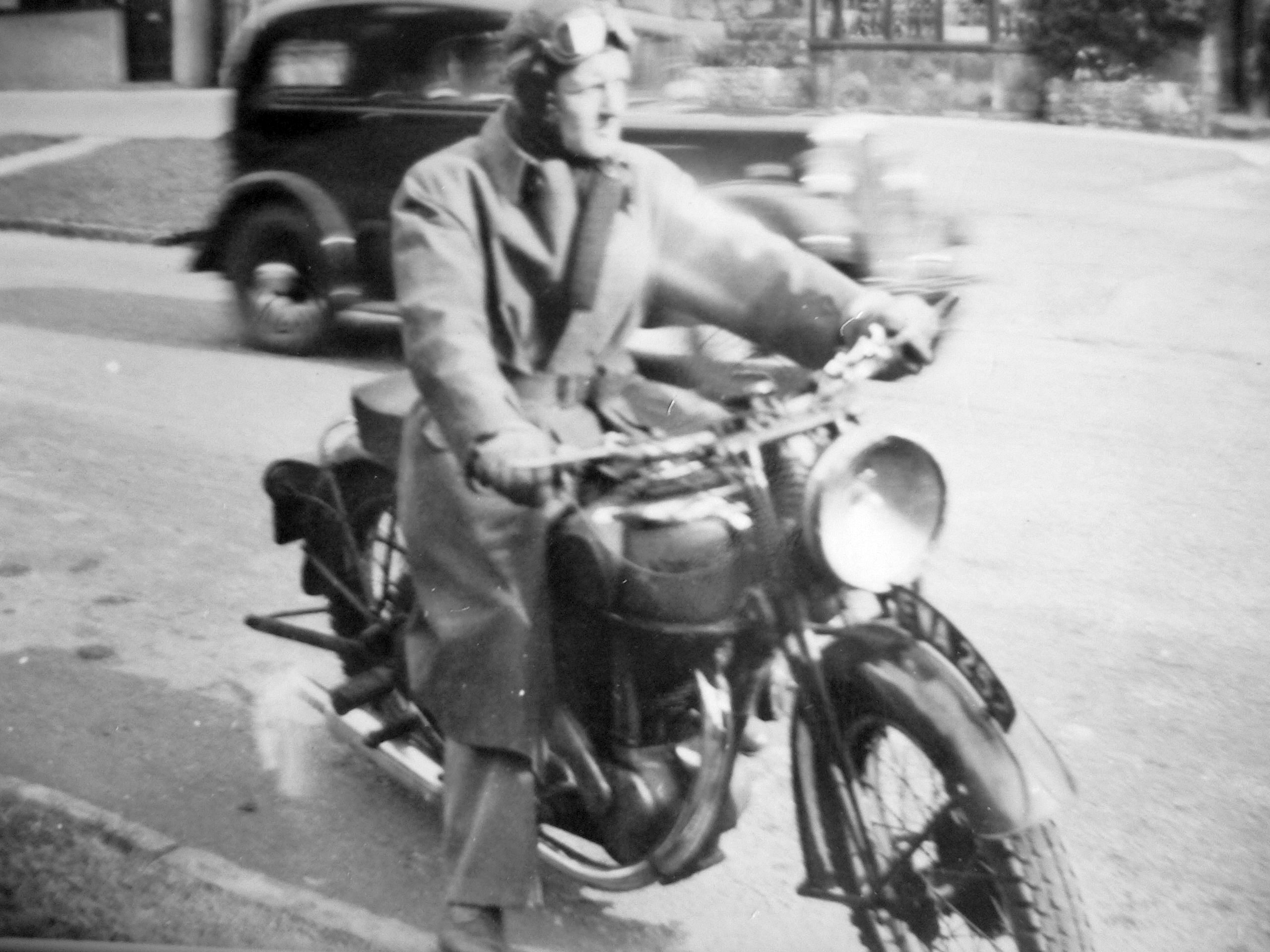 so that's why I am interested. My observations are:- It appears by looking at other photos to be a Model 18 of about 1936 to 1938. I don't think its an ES2 because it doesn't have a cradle frame. It looks to be a solid rear end, not plunger. The front brake is on the left hand side of the wheel which I think puts it pre1940 ? The exhaust is on the right so its post 1934 ? I can't make out whether or not the push rod tubes are parallel and so not sure if its open or enclosed valve gear, so pre or post 1938 when they enclosed the valve springs ? It looks like a large 8" headlight. I think that I can just make out a raised black on the top of the tank and so therefore in tank instrument panel, speedo, ammeter, switch etc ? Rego appears to be EVA 252 but no info on DVLA site for this number. Thanks for any help
Sorry I cannot help you with the details of the bike but the car behind looks extremely like a 1936 Singer Bantam Deluxe which helps to date the picture.
Regards
Dick
I think the black paint on the panel was pre 1936. My 1937 panel was plated. So that narrows it down further. But...those pushrod tubes look angled in so that's 1938 or later.
Hi David,
   I'm pretty sure this a 1938 model as the magneto chain cover is the smooth type which was new for the 1938 season along with enclosed valves and inclined pushrod tubes and, as you say, the front brake is on the nearside because this was changed to the offside for 1939. From the picture you can't really tell if it's a Model 18 500 or a Model 50 350.
   Looking at your father's riding gear, it looks like he is wearing a WW2 flying helmet and I would guess this picture dates from the late 1940s, so any parts could have been replaced or painted.
Check out the attached Picture which shows a 1935 ES2.  The features match most of those shown in David's photograph. There are just minor differences such as the seat and tank finish. My money would also go on a post 1936 model.
Richard seems to have it - the smooth magneto chain cover clinches it.  Although my 'theoretically' 1932 bike also has a smooth cover!  Mine has the excuse that someone added a rev counter, and very few of those were fitted to the earlier cover.  (The 'oxometer' as Stanley Woods was alleged to call them before he left Norton in the early 30's - "they measured the Bullshit...")
Many thanks to all for your help on this. 
Very much appreciated.
I have today been very fortunate to have found a matching 1938 Norton Model 18 for sale which I have purchased.
Some preparation of the bike will now be required because it's not been used for 30 years. Plan is to be ready in time for the Moto Club Indianos Colombres Rally in Spain this October 3rd to 11th
Cheers
Dave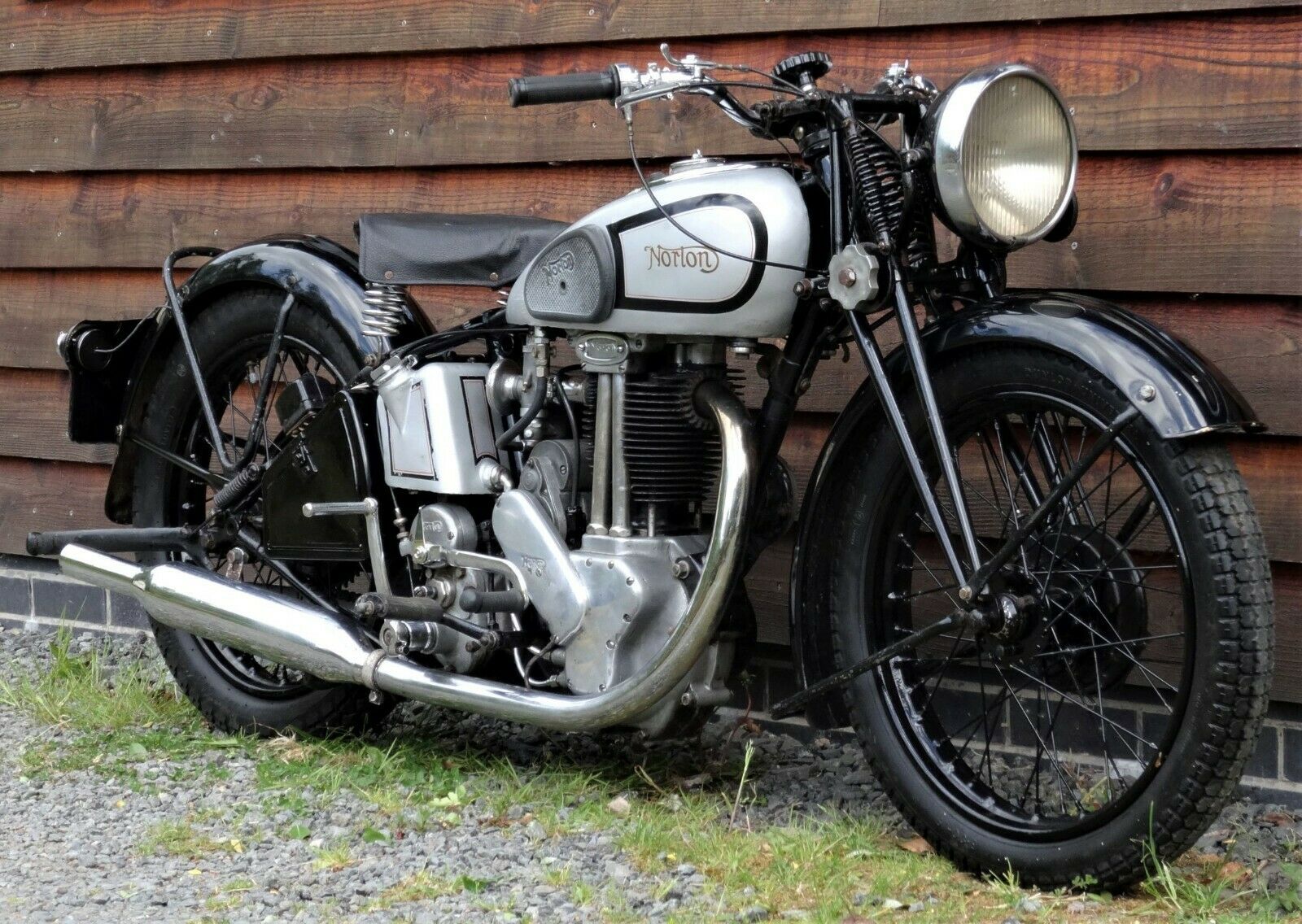 Hi David,
   Blimey, that was quick work ! Nice bike and looks all original. The most important thing to check is the big-end bearing, especially if you intend to do a big mileage.
'EWA' was a Sheffield series issued from September 1937 which pretty much confirms that it was a 1938 model-year machine.
Although the Model 50 had some smaller dimensions, I'm not sure that it's possible to tell from the timing side (drive side crankcase half was quite distinctive).
It seems that Sheffield are one of the few authorities to have retained records. It may be that they have details of the first registration.
http://www.calmview.eu/SheffieldArchives/CalmView/Record.aspx?src=CalmView.Catalog&id=SY140%2fL2%2f10
Yes thanks for the tip Richard Cornish. I understand that it's a crowded roller big end bearing.
Are there caged bearings available ?
Also do you know if there are any maintenance / overhaul / manuals etc still available ?
Hi Richard Payne thanks for that info.
The middle letter is somewhat blurred. It could well be a "W".
Following your tip I have sent an email to archives@sheffield.gov.au to see what info they may have for EWA 252 to see if this matches
Elsewise maybe a "Y" ? That would be Somerset, EYA being from December 1938 onwards
Cheers
Dave
Sheffield archives have emailed back and confirmed that EWA 252 was a Norton motorcycle registered on the 4th October 1937
Registered on that date to Dan Bradbury, of Dan Bradbury Motorcycles, London Road, in Scarborough
Thanks Richard Payne for your help
Cheers
Dave
Hi Dave,
   The Norton year used to run from October to September so your father's bike would have been one of the first 1938 spec models, and Dan Bradbury was a Norton racer from the early days and a main Norton agent.
   The big-end bearing might be O.K. but you will have to remove the head and barrel to check. You can't really fit a caged bearing due to the vintage design oil feed, the only way to improve it is to replace the whole crank assembly. I submitted an article entitled " Achilles' Heel" in Rh 376-April 2019 describing the shortcomings of the whole crank assembly. The bearing will give adequate service at normal cruising speeds and liberal use of the gearbox, rather than let it slog.
   Original maintenance manuals are around on ebay etc., and club DVDs are available from the NOC shop, but replacing a big-end was always classified as return to manufacturer, so unless you have the equipment and experience it's a job you will have to put out.
Not having ever had a bike that old, and being a former pupil of the school of "If it isnt broken, don't fix it" what is the problem of running it, and if it is quiet carry on running it until it becomes noisy? Does it take out something irreplaceale when it goes?
No criticism, just knowledge gathering for future reference.
Thanks,
George
Hi George,
   The reason I high-lighted the big-end was David's bike hadn't been used for 30 years and he was planning to use it abroad. He didn't say if he was going to ride it to Spain, I guess not as that could be up to 2,000 miles round trip, but even so it's not a bad idea to check a bike new to you  so your holiday isn't spoilt.
   I can understand your thoughts as I am currently running a pre WW2 Norton that hasn't had the engine stripped for over 55 years, but only on short journeys.
   The OHV/SV crank is a poor set-up and it's not unknown for the crankpin to shear straight through, and if a worn big-end is run slack it will most likely crack the flywheels as in the attached photo, and they will then be scrap.