In my parts book (64 on Jubilee & Navigator) it lists a "Spray Baffle" part # 23652.  Part doesn't seem to exist anywhere nor pictures of it.  Anyone got an idea what it is (& for) please - also, is it for the later Jubilee?  Picture of mine as it is right now - not far to go (hopefully)! Thanks - Bruce
A spray baffle was fitted to my 99dl  I think it was made of something flimsy It was fitted to restrict the spray from the back wheel . It either fitted at the rear end of the short Mudguard to stop spray getting into the tool tray or at the front end to deflect spray from the swinging arm and drive sprocket.Either way something is needed,so I have some foam pipe insulation wedged at the back and at the front an apron made from innertube rubber that drapes down from the guard through the swing arm ,it stops spray bouncing on the cross tube and getting to the drive sprocket. Now the full chaincase  can actually do its job.Think mudflap.Why is my brain full of this trivia?,surely must be something else to life.
I know you cannot be sure with colour over computers, but the bike looks neat in that colour, on my monitor it looks an orangey red is that a fair description?
John
Does that mean soon to go pop!.
I think that's Candy Apple red, a red metallic over a yellow/gold base coat. 
Dan
Good morning Bruce,
This item is made from something that looks like old suitcase material. Waterproof cardboard.
It has two mounting holes and is fixed on the lower two holes of the centre frame member by the same bolts that secure the centre stand stop.
It goes on the forward face of the central frame member, the inner face opposite the centre stand stop, and is shaped so that it prevents spray from the road going up the central channel and towards the carb belmouth.
You could make something out of aluminium which would be just as satisfactory, and would not compress under the bolt load. The original spray baffle always compressed over time resulting in loose bolts and a stand stop that moved upward when struck by the stand.
Hope this helps.
Peter
That's interesting Peter, The 99 has a mudguard that protects the carb(mostly!) so the big twin baffle must have a different part number and shape.  .I will take a look in my book.
That's really really great info Peter & Robert - thank you.  Now where did I put my old suitcase in the loft!  I assume it was flexible but not too much (until wet that is).
Yes, colour is Candy Apple Red over a Yellow Gold basecoat.  Couldn't find (at the time) an original colour to match but saw this at great motorcycle takeover in Gt Yarmouth last year on a car. Rather liked it so went with it for the Jubilee - haven't really seen it in sunlight yet though!
Bruce
Hi Bruce,
Try to imagine it without the hole. Interesting that it was painted ivory to match the frame.
What attention to detail by AMC!!
Peter
Ah Ha - that would explain what this "bit" was originally.  Cheers Peter!
Bruce
This is my attempt to recreate the spray baffle. A piece of rubber fixed  with the main stand stop.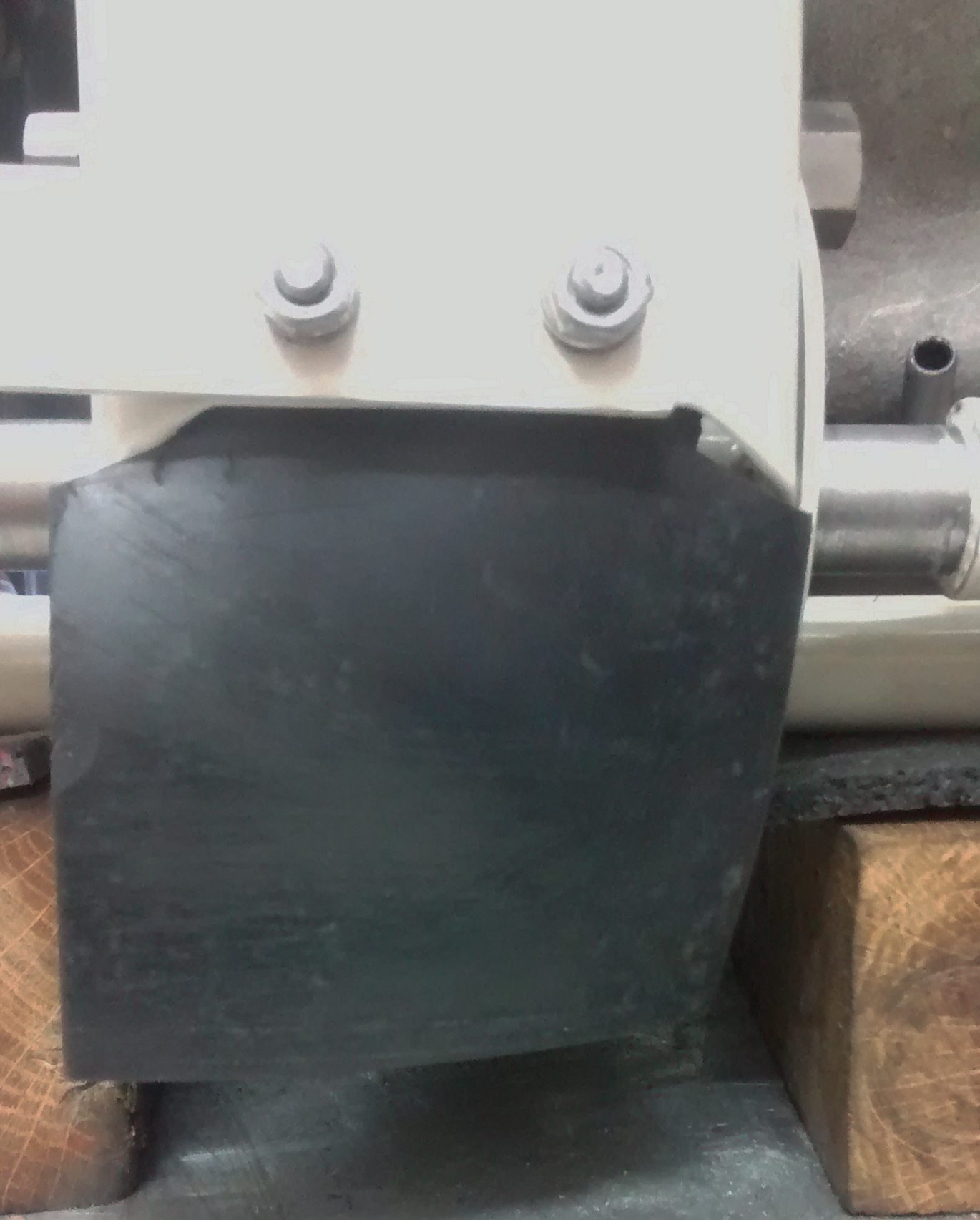 Thanks all - this is what I've gone with.  5mm ABS sheet, heated & bent to shape.  I reckon it'll do the right job!