Anyone go today? There was lots of Norton stuff, I picked up what looks like a very reasonable nicely reconditioned lay down box which I need for my 55 ES2, which frees up the  AMC box for my Metisse project.  dan
Not me Dan - too long of a swim .
Yes Dan, I was standing next to you when you bought it. I was looking for a chrome chaincase for a 650ss.  And a few shiney bits for the Atlas. 
You should have said hello! Small world. I nearly walked away as I was looking for an amca box, but then remembered that my 55 ES2 has an AMC norton box and should really have a  laydown box, and at £275 I thought it very reasonable assuming it's all been done correctly but everything looks good so far. And that frees up the AMC box for the Metisse!  I didn't see any other good AMC boxes so I think I made the right choice.
Dan
I wandered around, got a clutch cable and two Amal float chamber locking bolts. What a man has lost once, he can lose again...now I have a spare I don't suppose I'll ever lose another. Someone was offering a garden gate Inter for sale. No price suggested. Lots of shiny bikes in the show, but mostly off-road. Looking half heartily for a small neutral indicator for prewar doll's head. Might try and cast one myself in aluminium...that could be fun...if I don't poison myself with metal fumes!
Well it was the off road show! The club has the gear indicators in stainless I think or are the pre war ones different? 
Small disc a bit smaller than an old penny  with a short pointer, directed at a small line on the doll's face to mark neutral. The dolls head gained the brass top plate with the gear numbers, together with the long pointer, early in the war.
I was very interested in a 1930   350  Rudge that was sold in the car park. Ridden to the event it went for just under £6 K ,  Good value I think, needed a few changes to make original  and  a little frame/fork straightening . A quick  30's bike that handles and stops  and won races. Looks good too.A late 20's Rudge did 200 miles in 2 hours ,hard to believe.
I missed that but saw the partially assembled James v twin for £15k!  I fancy a pre 1st WW war bike ..... not sure why, prob just wanting to follow in my grandads footsteps!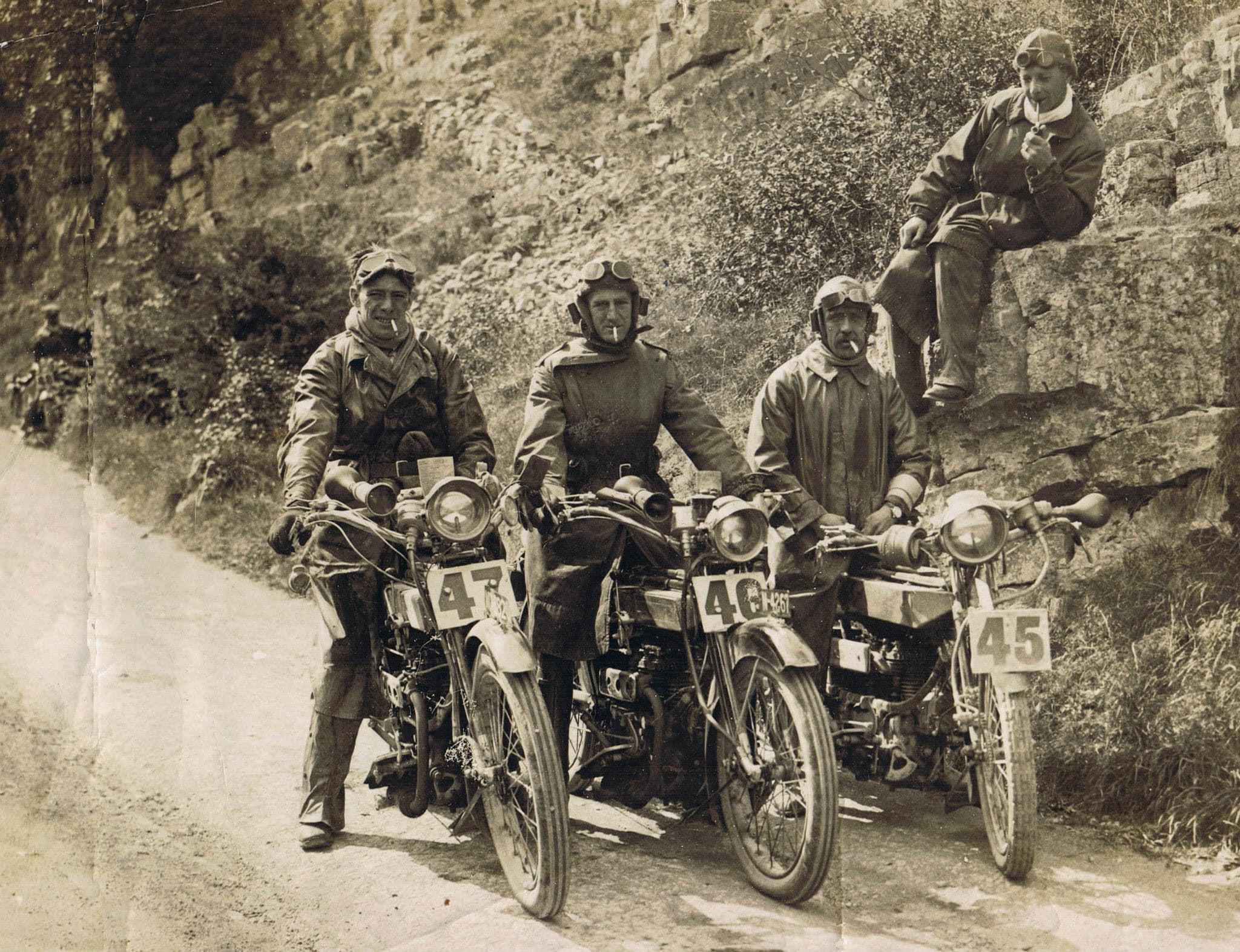 Now that I know what you look like I will keep an eye open!, 
No idea but my Grandad always seems to have a fag in his mouth in the photos I have! He is No 46 in the middle, it was his team in the ACU trials, not sure where or exact date.   He was sales manager for FN, so that's what they were riding, generally 500cc in line 4's.  Notice the front wheel speedo drives!  He was also in the Royal Flying Corp, hence the kit.
And I thought it was you in the photo Dan!.
Must be a family likeness. ;-)