Hello
I would like to ask, does any of you know what this little hole is for .???  
thank you
regards Lubos
Sorry, no, but my M50 also has one! 
there has been a thread on this in the past. But I can't remember the outcome.....
Is it for a blanking screw for an oilway ?
Hi Lubas
I think it was  an extra drain hole from between the bearings, to ease crankcase pressure fitted to earlier models but never needed on later ones. I have blocked mine up on my M50, and fitted a Yamaha reed valve to the  breather at the rear of the crankcase, This causes negative pressure in the crankcase, and eliminates any oil leaks even when doing 1000 hard miles a few weeks ago on the 'Picos de Europa'
If this hole is not closed, you may think you have a leak from the join between the chaincase and crankcase, …...........make sure you tap a screw in the hole on the alloy chaincase mounting plate, and fill the hole under the bearing in the crankcase with a seal, and you will have no problems, I sealed the offending hole on my M50 about 3 years ago...........no problems. 
Regards John O
If it's the same as the earlier engines, then it's a timed breather controlled by a slot in the housing and a drilling in the mainshaft. It seems a shame to block it...
My understanding is that the hole is there for the intake of cool air into the crankshaft as described in Niels Schoen's wonderful book on SOHC Manxes.  Don't mess with Mother Nature.....like Richard said.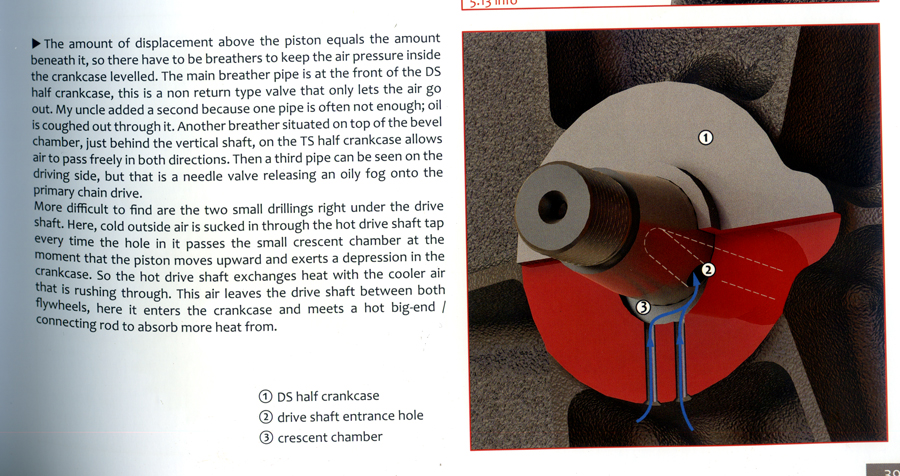 Sorry for my english.... I am from Slovakia and I am 56  and in school the fu****n kommunists taught only russian 
anyway:
 I have to say SORRY 
I looked in to hole again under the magnifying glass and there is no thread ,,,! But there was a screw.... probably put it there last owner. I dont know why.....(that made me mistaken)
I did a little test to show that Michael is right ,! (There we can see that hole is somtimes open and sometimes closed)
I will send a pics
Thank you all for help and helpfulness
regards Lubos
It's an earlier engine too, but the principle appears to be the same. It's difficult to photograph though. Whether air is drawn in or forced out, it seems to meet the requirements for a timed breather to me..You can see the slot machined in the housing for about one third of a rotation which is then open to the drilling in the mainshaft.