I suppose that I'm feeling a little maudlin this evening. The summer has passed with no proper motorcycle gatherings and this weekend would have been the last big summer party...The Flanders Branch's "Begonia Rally". My first was '86 and coincided with the NOC's first ever International Rally. A serious eye-opener for most of us law-abiding English, with outriders blocking every junction and a complete lack of respect for whatever laws Belgium had at that time...and then they took us to the disused race circuit at Nivelles...being Belgium the gate was open so it was an impromptu track session...Richard Beynen on his Roadster with Hi-Rider bars rode around the outside and inside of everything on road and track and is still known as 'Mad Richard'...Norton Shenstone had a representative there with a development Rotary and the wonderful John Hudson was in attendance giving advice and quoting part numbers. I had such a good time that I ended up going native...Some random photos:-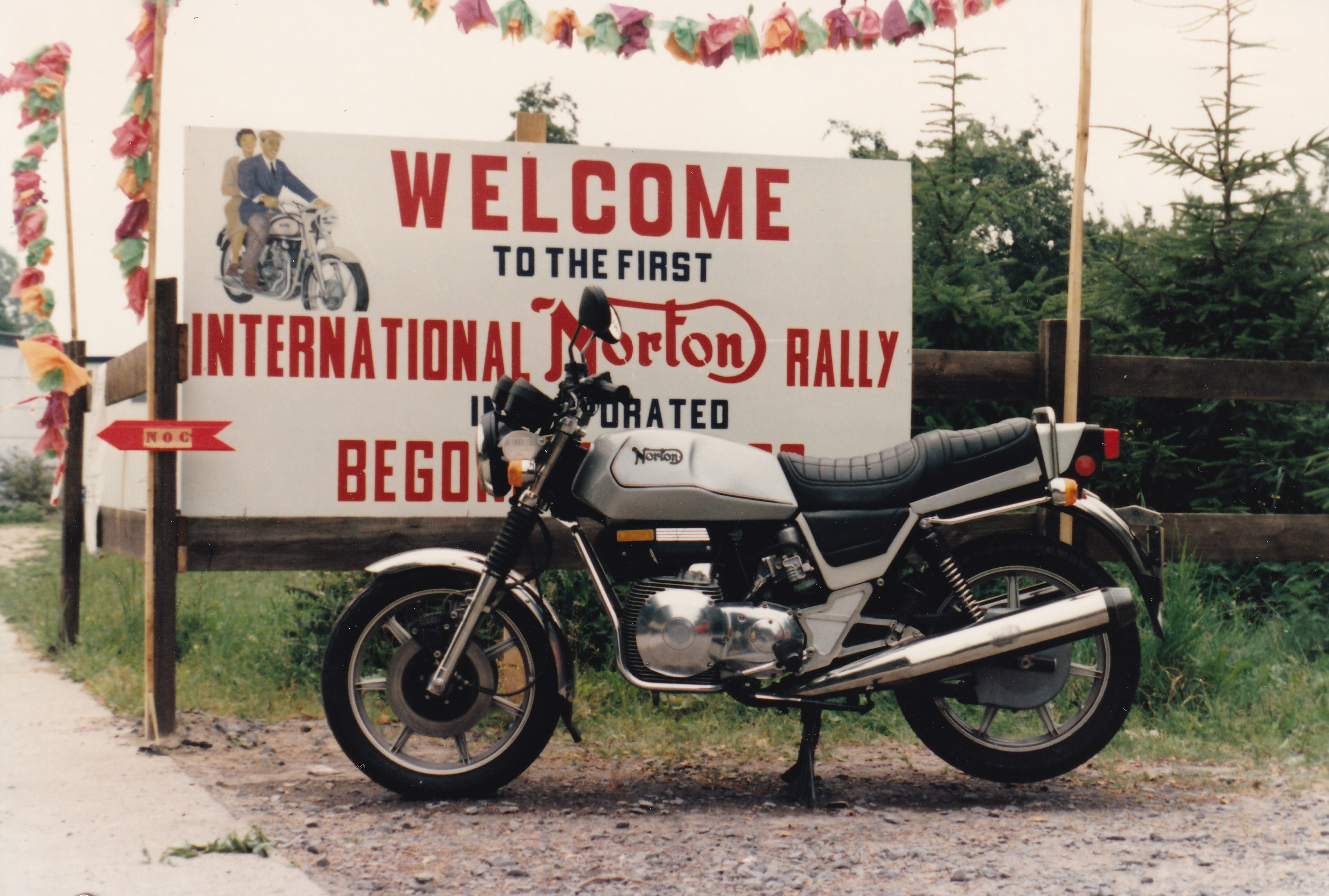 I was in Holland  for a Wedding  with the wife  and  travelling in an old camper. With a spare day I called into the  Event but could not enter , so parked outside for a day and wandered about . Don't think it was the same year as seemed to be held in a muddy field .
Thanks Richard. The pictures sure bring back memories. I went to some early 80's Begonia rallys, here are a couple of photos that I took.
Regards, Alan 
I went with my girlfriend, Yvonne Blair, to the 1982 and 1983 rally.  We had to meet Emlyn Stayte and his wife Jill at Felixstowe at 7:30 for the ferry over on Friday morning.  Emlyn hadn't turned up but two minutes before the ferry was due to sail he came sliding up the ramp with a big grin, which was just as well because we had no address or any other contact details for the rally.  When we arrived at the field Yvonne asked about the toilets.  One of the organisers handed her a toilet roll and pointed to the nearby woods; I don't think she was very impressed.  At one point, a nice chap called Steve had a Harley Davidson which spat back through the carbs and caught fire.  We had a collection for him, but the machine was badly damaged.  I enjoyed the early rallies.  In about 1996 I played lead guitar for two sets with the band on Saturday night because the guitarist was too drunk to play.  In the 2000s I have some great photographs of Brian Harriss shaving using his Dominator mirror and Phil Hannam drinking whiskey for breakfast out of a NOC mug.  So many great memories and as usual, it is the people who make the event so memorable.
I must have been feeling the same as you Richard. Remembered the great efforts of Marc Maes and family, the Belgian organisers for many years.
Sent an email to Marc yesterday morning to the mail address in RH. Thanking him and telling him and family how we are missing the usual Belgian frolics.
It bounced back.
So.. Marc, if you are reading this, we are all thinking fondly of the Begonia rallies of past years.
Peter Holland
The Begonia fills a big emotional hole in my heart too. Iv been most years for the last 22. Iv made so many freinds who mean a lot to me, had such good times there, and those people have helped me get through some difficult times in my life. It's so much more than just a rally, and where the phrase " Norton Family" was first used.
Year after year it is the same old faces doing the man hugs and three cheek greating with the ladies. I miss you all so much this weekend.
My first Begonia was probably in 1993. It was held in a sports ground where a very large lump hammer was needed to drive in the tent pegs. There were about 60 attendees who had to share very minimal toilet facilities. The Saturday night mini-riot along with cold showers became a feature of all these rallies for the next decade.
Al Read managed to seize his Atlas on the way there but a group of Germans led by Eric & Gant dismantled the top end, did lots of filing and then pronounced it fit to ride again. Which it was!!!
In those days, the Begonia used to be held within a week of the NOC International which allowed members to visit both in one ferry trip. However, a few years later, the event organisers decided to move the Internationals to much earlier in the year which took them ouside the summer school holidays and immediately killed off the cheaper double event continental week.  Numbers attending the Begonia plummeted and I recall turning up at one held near Ghent (Lokeron?) where there were only 6 bikes on site altogether. 
After a long gap, during which I sold all my Nortons, I was talked into buying a Commando and attending a Begonia once again in 2009. This was held at a far suitable site and was better organised in terms of on-site meals and facilities. The rally was held here for a few more years before heading up the road to Open Huis which near perfect for the Begonia. After the well-attended 2017 combinded INR / Begonia numbers attending have started dropping once again. I think this is due to an aging UK membership. Most of the Brits seen at the Begonia are 60+ whereas the other nationalities riding a Norton seem to be well-below that age.
Quote of the Decade from one of four NOC members who rode 961s to the Begonia in 2018. 
I've only had the bike 3 months. It's been back to the factory twice for repairs. I don't think that is too bad for a new bike!!!
These certainly bring back some memories. My wife and I travelled on our 850 Mk1 Interstate ( purchased with my 'curtains and carpets' relocation allowance from my employer at the time) to the first rally in 1982, along with a group of other Bristol branch members. For us, the rally was a stop off for a few days en-route to the Riviera where we were camping for a couple of weeks. Those were the days - bikes, beer, charming ladies, pre kids and not really a care in the world ! Surprisingly, 38 years later most of the Bristol team who attended are still riding Nortons and branch members. 
For those who are unaware, the first rally was timed to coincide with the end of the begonia season and the main street in the local town was decorated with massive begonia displays and murals (all of locally grown flowers). On one of the days, the bikes were festooned with begonias and then participated in a run by all rally attendees through the town centre.
The rally was also an introduction for most of us to the local way of conducting rally runs, ie blocking off local traffic etc. A little hairy for some of the outriders. but it did make for a well organised run and some good routes.
As I recall the site was a little basic but did the job. I witnessed the Harley burning. The owner was unfortunately throwing water over the bike but had left the petrol tap open so there was a continuous supply of fresh petrol onto the flames. I also recall there was an insensitive soul on the site already wearing a tee shirt with the slogan 'If I had a foreign bike I'd burn it', but he took it off shortly after the fire.
We attended the next few Begonias including the joint First NOC International/Begonia Rally but thereafter attendance was only intermittent, mainly due to the fact that there was so many other alternatives on the Bank Holiday weekend, plus a family arrived. 
I have some photos of these early rallies which i'll send in if I can find them and work out how to load them.
My email inbox has suddenly become swamped by messages informing me that Marc Maes is retiring. From work? From being a nice person? From fixing Nortons? From what?
He retired from work, I stayed with him and Mika in Provence in the summer, we chatted about the Begonia at length, hopefully we all meet in 2021
Marc would be serving beer at 0230 in the night,,, then be frying eggs at 0800 next morning.
I couldn't imagine how sombody could survive on such little sleep. 
Top man.