Hi I bought my first Commando last year and I am now slowly familiarising myself with the various modifications that have been made to it. I am a little puzzled by the 4 position ignition switch. On mine position 1 does nothing however I notice if I push down and the headlight tail light and instrument lights come on? release and they go off, same with position 2. Position 3 the warning lights come on along with headlight (wired for day running?)  position 4 same as 1 and 2. So is the switch faulty? or has it been wired up wrongly or deliberately this way. Mine is a P reg Mk3 with electronic ignition and belt primary so no electric starter (not that makes much difference the above I think) any ideas gratefully received.
The MK3 ignition switch is the same 4 pin switch as the ones used on Commandos after 1972
The Lucas part number is 30552
You can find an article that shows you how the wires should be connected here:
https://granttiller.com/norton-commando-ignition-switch
The intended behaviour of the four positions on the switch is as follows: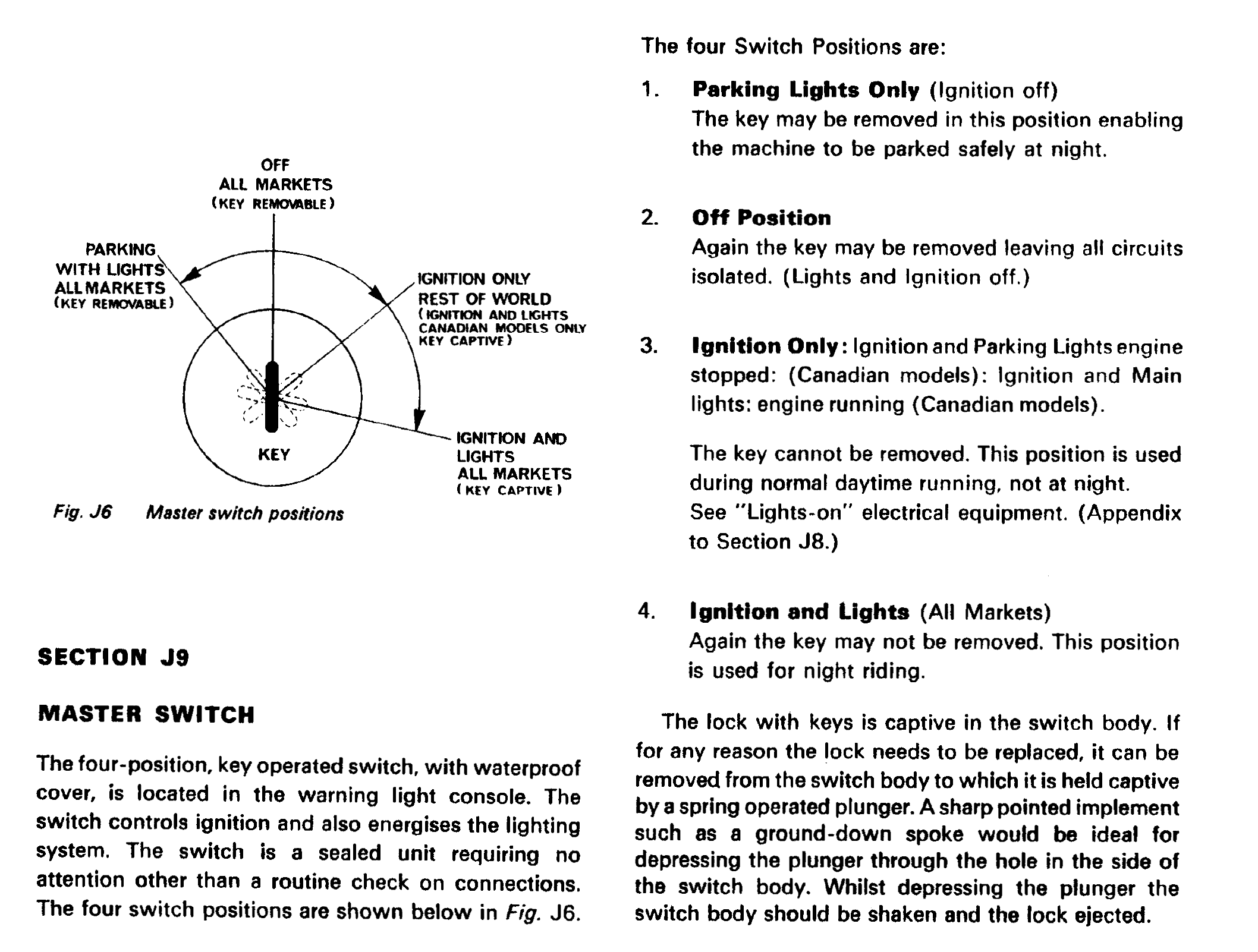 Note that the Canadian model was different, and this was coupled to a headlamp warning unit which, when the engine was running, automatically lit the pilot light, tail light and instrument lights and made 'hot' the blue wire that goes to the lights on/off switch on the handlebars.
This was law in Canada.
There is a great article on the Norton Owners Club of New South Wales site that walks you through one way of rebuilding your switch, if you take it apart and find issues:
https://www.nocnsw.org.au/technical/rebuild-lucas-ignition-switchtobetterthannew
Here is a wiring diagram for your bike:
https://granttiller.com/wp-content/uploads/2019/07/1975-MK3-Commando-Original.png
Don't hesitate to reach out if you are stuck, confused, or need a hand with anything. 
Hello
I bought a Ignition switch two years ago, unfortunalty it was faulty, I should have measured  it before mounting. Pin 4 had even no resitance to the case. So it blew up some fuses.  I replaced it with a newer one.
Please measure the resistance between the pins depending on the switch position, the pins should always have no shortcut to the tumbler-case. In the haynes manual is a sketch with the internal connections depending on the positions.
Marcel
I attached a screenshot from the Norton-Manual, there you can guess internal connections.
See also 850_man.pdf (britmoto.com) Page 163
Update : Valid for all switches except Canadian
Switch position      Connection Pin 
1                            1,3                 Parking Lights
2                            2,3                  Off
3                            1,2                  On
4                            1,2,3,4            On with Lights