Saw this posted on Facebook. Did Norton use the name Commando in 1950 (7th ad up from bottom), or has this been faked??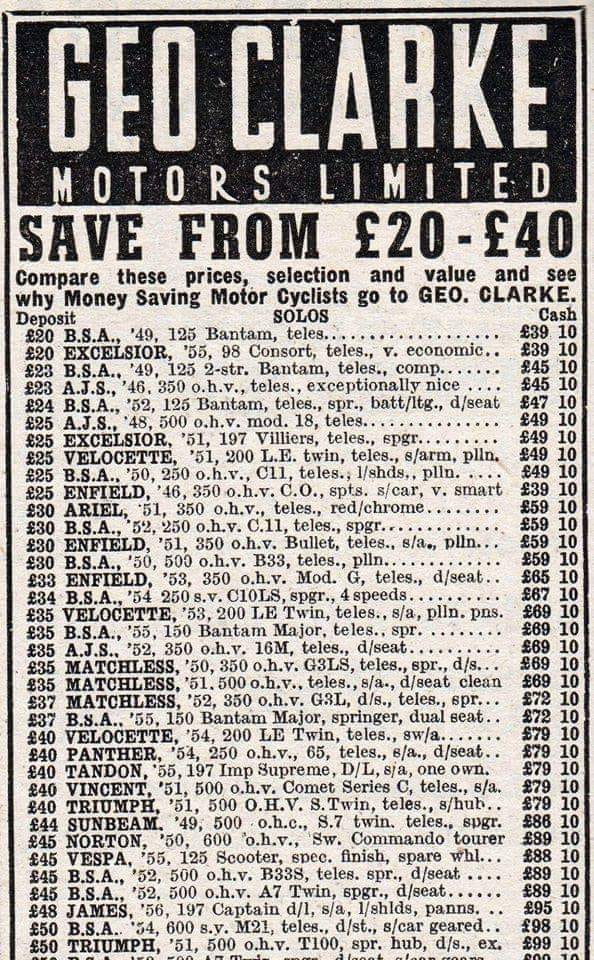 Hello  Now lets us all think a min  In 1950 there were no 600cc twins  So this  will be a Norton Model  19 R   with a Bushmar Commando double adult   sidecar fitted  and Not a Commando Motorcycle   So No Crystal ball Nor Fake And I wish I could buy this very Strong combination for this price Now   yours Anna J  
Well done Anna - it's good to have a pensioner's knowledge, eh !
Hi Martin,
   I agree with Anna, except I think the abbreviation Sw. in the advert stands for Swallow, one of the many sidecar manufacturers in 1950. I don't recall Commando being one of their model names, but it is quite possible. 
   The main thing I noticed is that a 600cc OHV was not listed by Norton until 1955, unless this was a pre-war model re-registered or had been fitted with a new engine not long before the advert.
In 1963 AMC unveiled a bored and re-stroked version of their relatively successful G3 350cc single. Changing it from a plodding 69 x 93mm to a more sporty 74 x 81mm plus a compression increase rising from 7.5 to 1 to a dizzy 8.5 to 1.
This bike was named the Mercury and had a production run of nearly 3 years. I don't believe that sales were that good.
If my memory is correct I think that the SS in the Jaguar SS100 stood for Swallow Sidecars not Super Sports as a lot of people thought.
Dick
This from Roy Bacon's book " Norton Singles "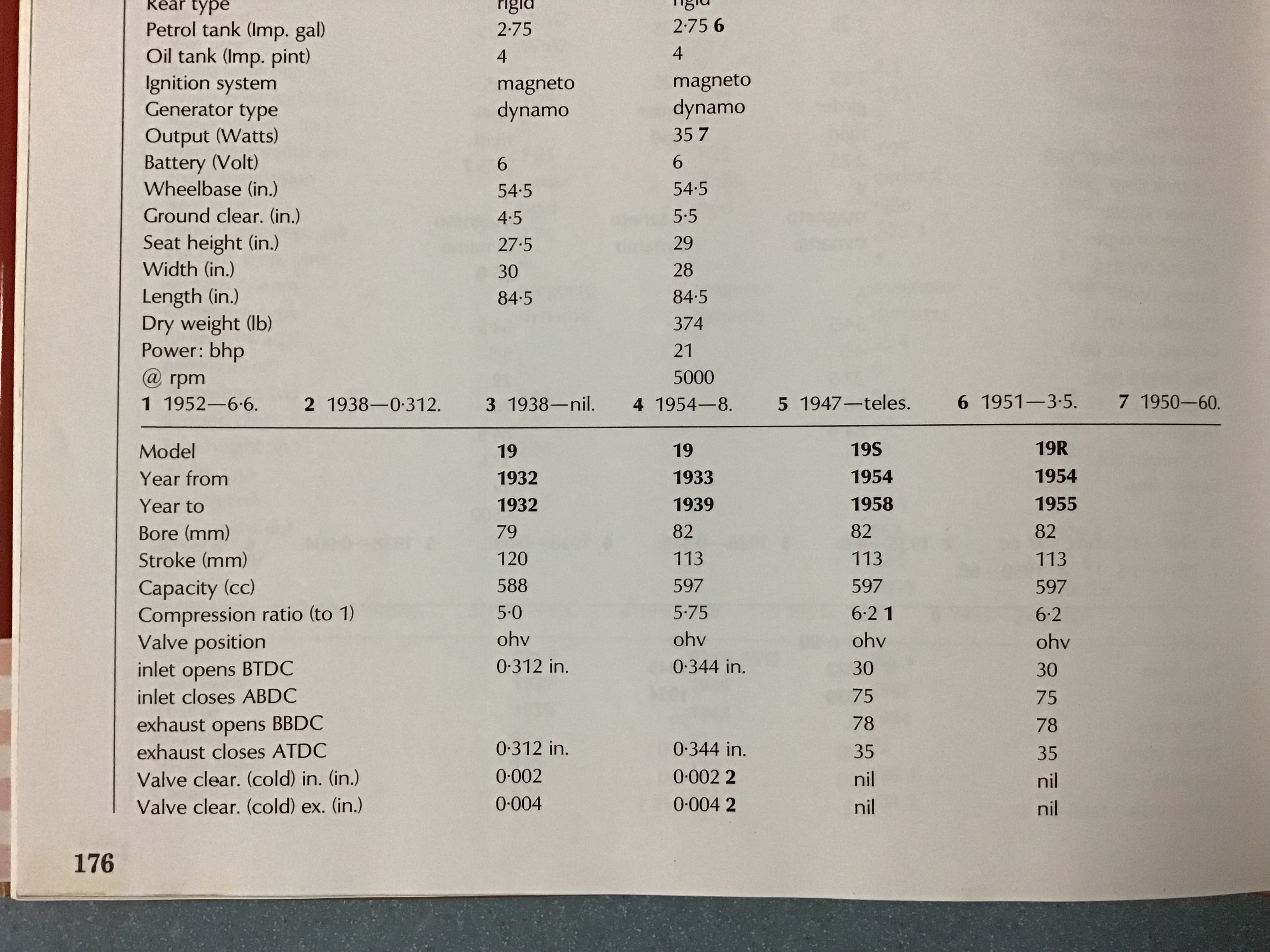 I think that the swallow sidecar business had been disposed of , to Helliwell holdings?, before the SS Jaguar was launched. The sidecar and coach building business then passed to tube investments who produced sidecars +  the forgettable gadabout scooter+the triumph engined Dorteti sports car .
The model 19R with the 82x113 engine was available for one one year, 1955.
The story goes that in 1954, at the Norton factory, they found 143 model 18 frames lying around unused and virtually scrap. Rather than binning them they fitted the engine from the then current model 19S, a laydown gearbox and long Roadholders as there were no girder forks available. And marketed them as a cheap sidecar bike. 
So it was a proper parts bin special, and of those 143 made I know of 4 still on the road,  a pretty good survival rate really.
I am currently on holiday in Cornwall on my example, where the torque from its 600cc engine is especially useful getting up these Cornish hills.
My photo at the top is it at Lake Garda, Italy, 
Interesting to note in that George Clarke price list that the Vincent Comet is cheaper than the James Captain. Reckon that Comet would fit in the "Tardis".
Hi James,
    Just to highlight your observations, I was talking to my 82 year old brother today and we were discussing bikes we and my father had owned and their relevant values at the time. In 1964 my sister bought a brand new Honda 50cc Cub on H.P. It was "B" reg. and was the push-rod engine as the OHC hadn't been put into production then. She used it for a couple of years to get to work until she married and then sold it to my brother. He subsequently exchanged it for a high mileage Dominator 99 Deluxe with Watsonian Monaco sidecar, fairing and Craven panniers, all colour matched in blue and cream. Not bad for a straight swap !
   This can work the other way though. In the late 1940s my dad bought an Excelsior Manxman 350cc from a dealer in Oxford. The bike never ran properly and dad took it back to be offered a 1946 (I think) BSA C10 250cc side-vale as a replacement with no money involved either way. Not a good move when viewed from today's values, but the BSA was totally reliable and could do 60mph 2 up.
Yes, us pensioners can say that is a genuine advert. I used to visit Pride and Clark and George Clarke for a nose around. One had to be a good mechanic to sort them out usually. Our local place of interest within 30 miles was Groombridges at Cross in Hand, East Sussex. He was reputed in the early 80's to still have Goldies and Shadows in crates in a warehouse in Heathfield. I knew a teacher, who in the late seventies had 13 Vincent Rapides, one new in a crate, and an Inter Norton probably unused in his garage. I had a visit once, so true. I still have copies of sixties dealer adverts, wish spares were that price now. Vic Miller at Bopeep in Hastings once buried 10 tons of Triumph 500 engines and parts in Hastings tip, I told him to sit on them or give them to me, then legged it as he used to jump over the counter with a baseball bat if you upset him, (He was sectioned once too).
I had a G80 version 1964 short stroke G50 engine. Well it took the Alpha G50 big end and conrod, and had steel flywheels. I believe it was also a Norton ES2 as well. Lovely to ride, 85mpg, and cruised at 80mph. Pistons were unavailable then, but I saw some advertised in the States recently. Most of its life before me was as sidecar float for an electrical contractors, Beenies in Eastbourne, who bought it new.