I'm due to take delivery of a 1930 Big 4.  I'm new to ownership of a bike of this era.  I've ordered various manuals and literature but while waiting for it to arrive and doing as much research as I can.
Can anyone confirm the oil system on this particular machine is a one way system - ie, there is no return into the oil tank.
Hi David, 
The 1930 model s.v. and o.h.v. engines  used a Best and Lloyd Mark V type 9090 mechanical oil pump 
The system was total loss, that is the oil wasn't recirculated back to the oil tank. 
The illustrations  in my parts book are too small to post with clarity. 
Send me a p.m. and I'll enlarge them for you. 
Hi,
I have just sent David the maintenance manual for the 1923 - 1930 SV
I am surprised that you say it is a total loss system as the manual clearly states that oil is returned to the tank. Having said that, I do not own any single and am only basing this on reading various manuals.
Tony
Hi Tony
Looking at the bike the other day I asked the owner where the oil returned to the tank and he explained it was a total loss system.  I agree with you concerning the manuals, but they seem to cover various models and from that sense, it's not the greatest manual I've ever read.  Someone else also confirmed to me they are total loss systems, so I'm pretty sure they are.
Regarding oils, from what I've read, it looks like Castrol XL or equivalent for the engine.  Nothing in the chaincase - as it's a dry clutch and something like steering box grease for the gearbox.  would you say that's a fair assessment? 
Look out for 'semi fluid grease' for the gearbox. For the engine...Norton were changing over to dry sump lubrication at that time. Some competition OHV engines had it in the mid 20's, so the part on the manual you must be looking at refers to them. Any chance of a picture?
Thanks David.  I looked up the modern equivalent for 'Castrolease' that is mentioned in the manual for the gearbox and came up with Penrith Semi Fluid Grease as an option, so thanks for confirming I was on the right track.
The Sturmey Archer gearbox manual I read also made it clear the clutch is dry and should not be lubricated.  I've not got the bike yet so can only assume there's no oil in the chaincase??
Do you know i lubricate the primary chain?
I'll post photos when I get the bike.
Here's a picture of my (soon to be) bike.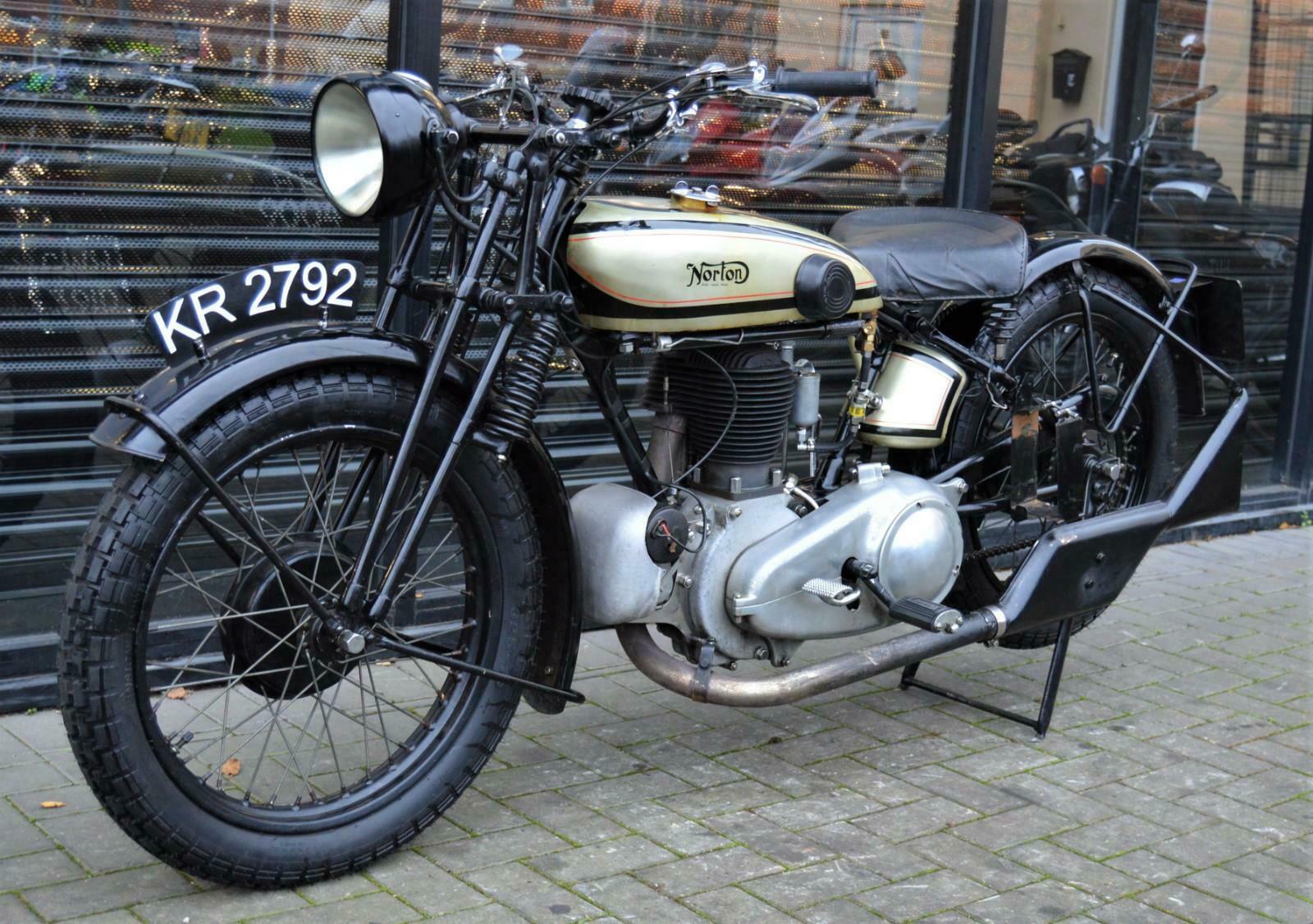 I've never used semi fluid grease before - might sound like a stupid question but do I need to get the old stuff out before adding new or do I just add in new stuff? I think the manual says charge the box with 1lb of grease and periodically add another 1/2lb. I need to double check those figures but it was something like that. Do I just use a grease gun to get it in there? Would I apply some form of none direct heat to liquify and remove the old stuff?
Sorry can't really help in detail. Except to say if it has been used in recent years I'd just top it up. It's not like an engine that could be full of acid products of combustion. My oldest manuals say to use mixture of oil and grease. The semi fluid stuff I have is sticky and red. My old friend used to use it in veteran bikes.  I think he used some kind of syringe to get it in. There's no point in being too obsessive about quantities.
The primary chain did not gain its full oil carrying chain case until a couple of years later.  Just use spray on chain lube as for a modern bike. At about a dozen horse power, it's not carrying enough power to rapidly overheat the chain.
Have fun! At that date they were still lighter than they became in the 30's. Keep the valve guides and the forks greased. If it has the old plain conical grease nipples, put a bit of cloth over them and use a old fashioned push on grease gun. I temporarily swapped some of mine out and used a clip on high pressure gun to grease any that had dried out after long lack of use.
Following on from David Coopers message above I've pondered his comment about keeping the valve guides greased.  I've not got the bike yet and my manual still hasn't turned up so might be a silly question but are there grease nipples for the valve guides or do I have to remove the knurled thumb screw and cover and direclty apply grease?  Can anyone confirm how much and where I apply grease to the guides?
I've taken delivery of my Big 4 today and noticed a missing bolt from one of the engine mount studs.  I've looked in the part catalogue and can't see anything.  Would anyone happen to know the size of bolt I need to order?
Millers oils in West Yorkshire keep this too.
You can add a little engine oil to it to make it a little more fluid. 
With regards the bike, what work are you doing to ready for road use and from the dealer do you know whats been recently done?
I am always a little on the safety conscious side and would investigate at least the front wheel bearings forks and spindles.
Gearboxes of the CS type have a susceptibility to wearing the output bearing which is a shimmed double cup and cone.
Have a good tug of the clutch shaft and output sprocket to check for movement.
You can replace the cup and cone with a modified car wheel bearing but need to have the bore and outside diameters ground to size by a friendly engineer. Still way cheaper and better than the £200 plus replacement option.
Enjoy the bike.
It has been commented on a fair bit on Facebook as I know some of its original levers and carb seemed to go missing between two dealers adverts.
It should be lots of fun.