Hello well since lightweight seat pans are not easy to find I disided to rebuild my one only the seat base with out this side left after drilling out the side spot welds , so made new set of sides and respot welded them. Back on And the rear bits as well the seat pan side had suffered from the tin worm virus now it looking good but a bit more to do to finish off yours        Anna J
Well done. I recently had my seat rebuilt by RK Leighton which required them to reform/remake large parts of the seat base. They did a good job and the cost was £185 for the foam, rubbers, and cover fitting plus £25 for work on the seat base. Not bad I thought for an unobtainable part.
Hello yes you can do things that way if you have the cash but being on a pension you have to sort it out yourself and I do see that this club spares are not doing any thing about lightweight seats witch are now unobtainable as a new replacement part I have now got the seat pan repainted in black gloss looks right next is to shape some seat fome  and fit a seat cover I have new a grey topped one to Finnish the job and get on with respraying the frame and its parts and tin wear the tank will be the Next big challenge as there are the tank badge screws that have broken off still in the tank so I have Find A way to get these out and get out some small dings as well the next problem will be the condition of the Wipac alternator I will need some advice for this one , yours Anna J 
I agree NOC spares might help us out with hard to source items. I have been looking for grab handles for some time.
Regarding the seat base, and at the risk of offending anyone who has dealt with him (!), Bantam John of Sheffield Motorcycles, Staveley sold me a new complete seat. He has a few so he must be getting them made somewhere.
Dennis
hello well since I now have some patterns I could make a new pan If needed,  If the Noc wish to supply the materials  I make some seat pans for the Noc,  then they can finish them off by adding the  form and seat covers  easy job for someone  only five or ten will do them for now  small batch would help someone  in need  of a seat,  As there not easy to obtain  and the old ones get tin worm bad were as my ones will be made from 2.5mm thick galvanised  steel  and P182  zinc undercoated and painted black gloss like I have done this seat pan I have here,  And I am not asking to be paid for any labour costs  since  now-retired                                              your Anna J  
I bought one of his seats too. Well, not the best quality! I took it apart and found out there was only paint on the underside of the seat base. Flimsy brackets at the rear and there was a gap between the tank an the seat.  Also the side skirts were not deep enough. The pan looked like a reworked aftermarket pan also for featherbed models.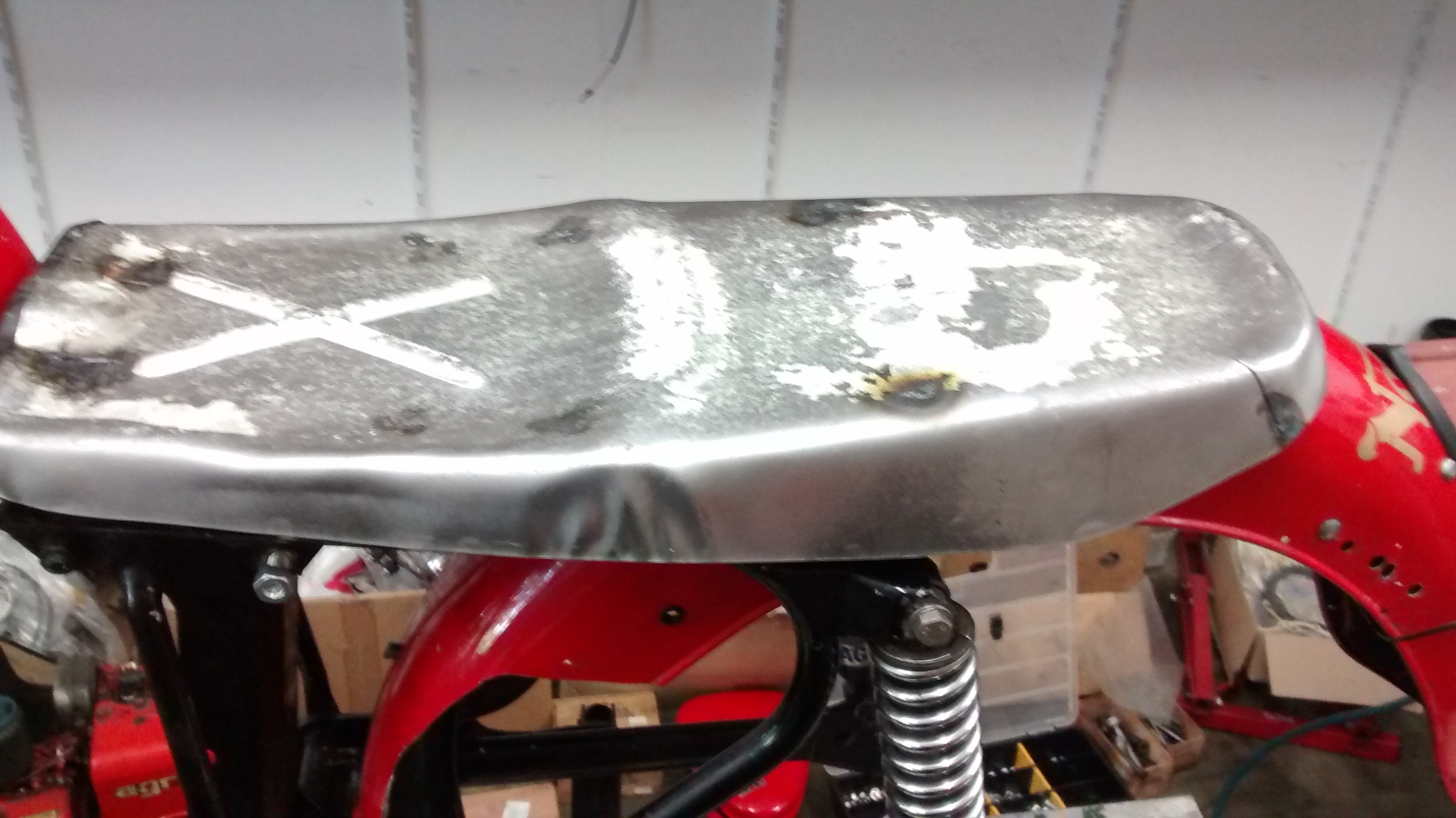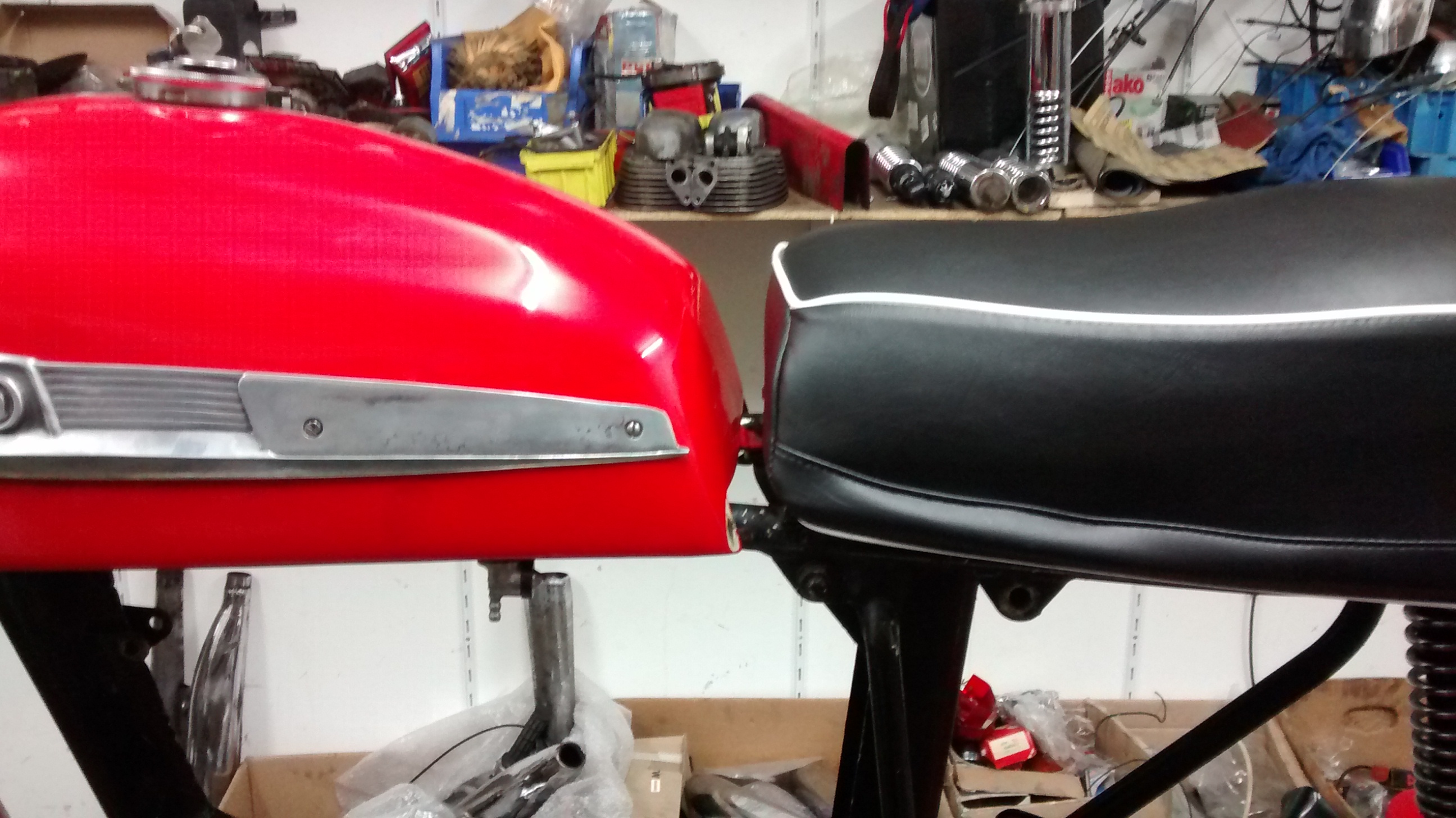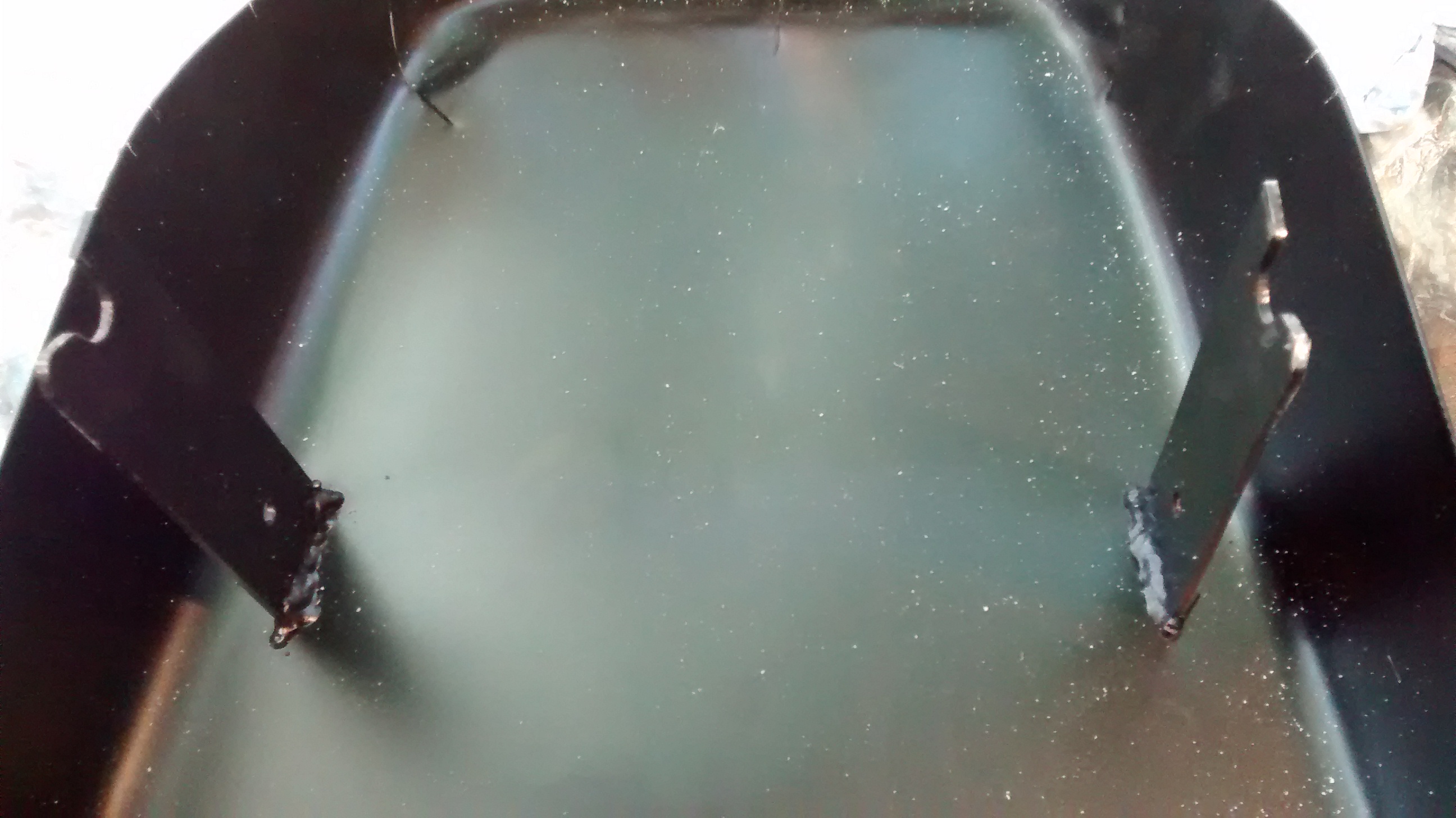 I removed the rear brackets and had them reinforced.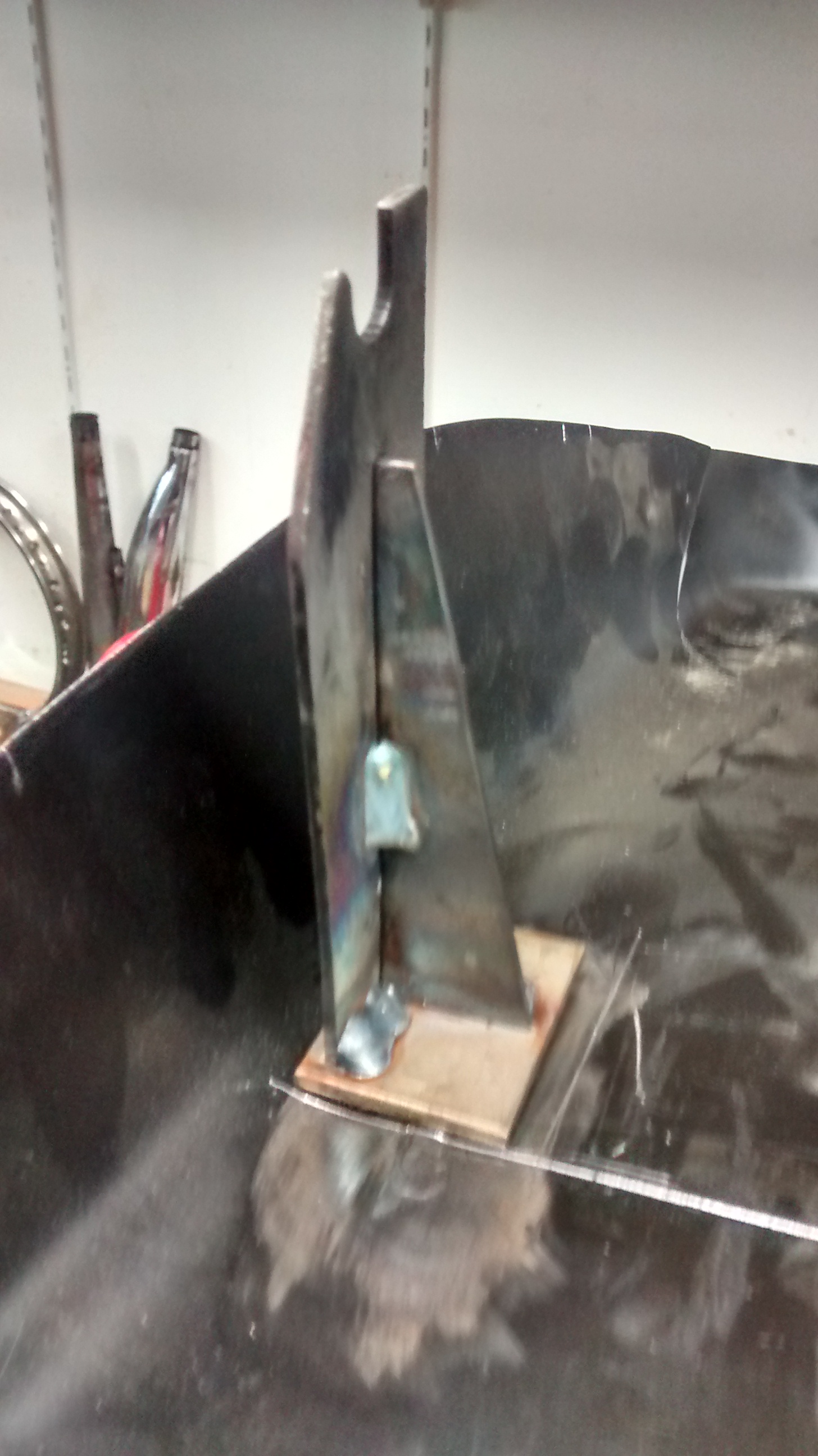 Later I found an original seat which is now on my Navigator with anew seat cover from Leighton´s!
Here the seat as I got it.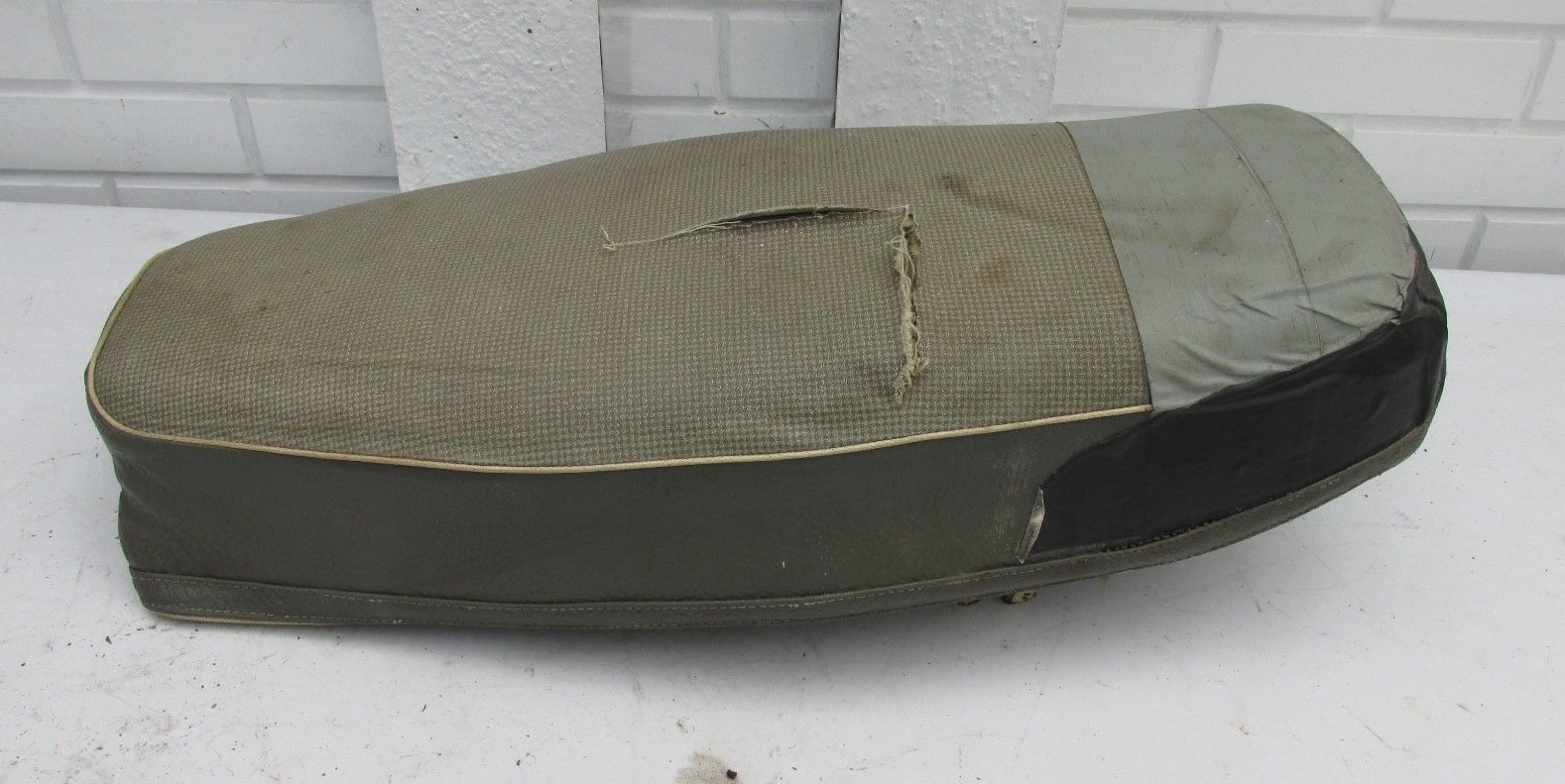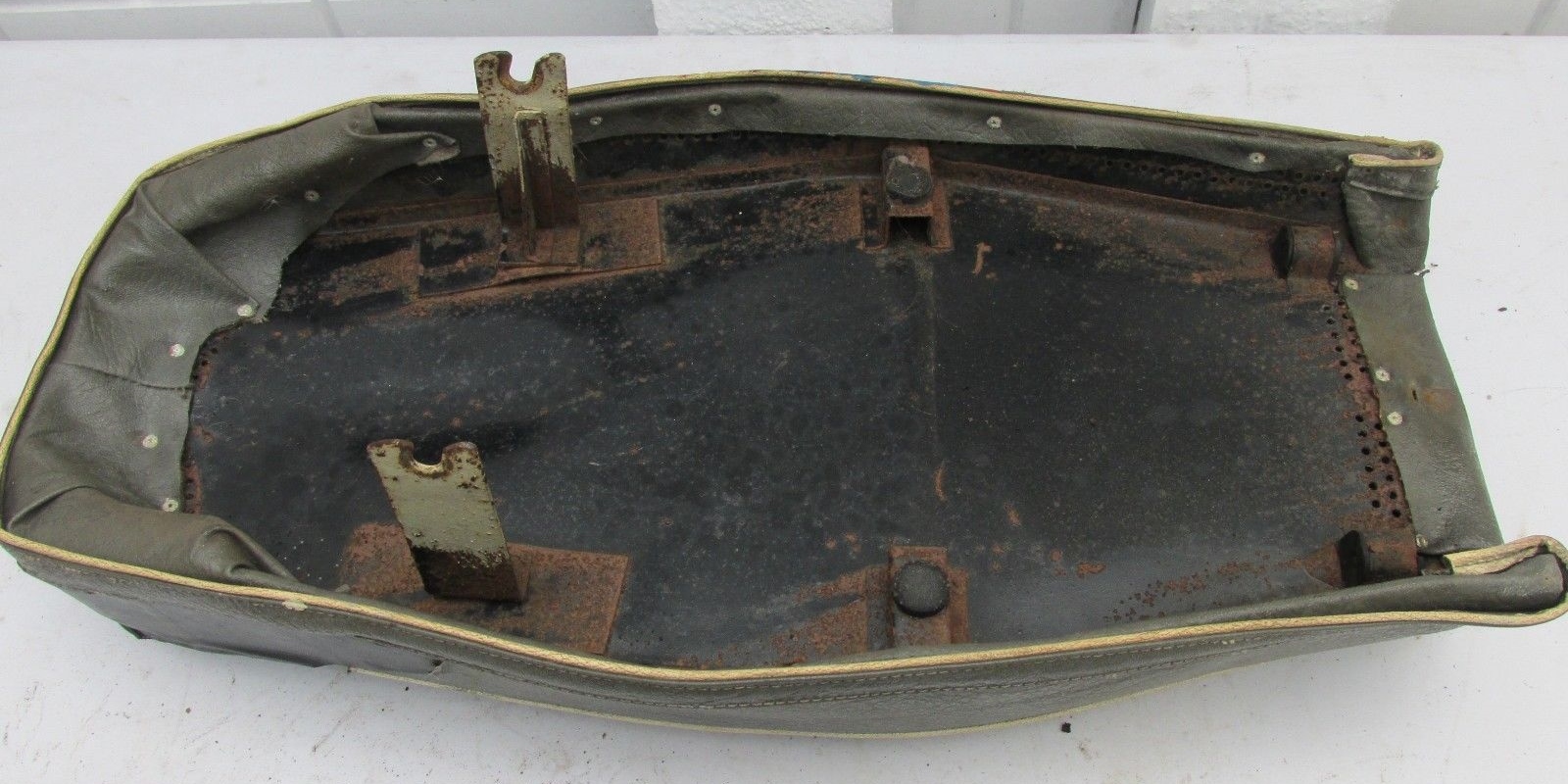 hello lightweight friends  Now in your photos the Last photo looks identical to the one I have  the only difference Is I have just re pained my one black  but I have  de spot welded the sides and backbit and re spot-welded new Galvanised ones on  and welded three cracks cross the base by gas weldings  I have  Mig welder and an Arc welder and a small gas welding equipment and I  am A very accomplished welder  in all 3 arts  the seat base I have most of you would of just put  It in the Bin, It was that bad  But Now I sorted In and Now made a Good strong Seat Base  Now the Next thing to sort out is the alloy Primary covers  As two holes Broken though At the rear end Part just at the Bottom corner  there within an inch of each other And this primary  cover is hard to find So It's Out with my welding equipment again  I have to cut out a plate to cover both in one go then drill and tap with a 2Ba tap And fit six screws in the right places then at the inside I can then cut two discs out to fit these two holes  and then weld around them both  to make a strong and permiment  job,  photos to come   yours  anna j