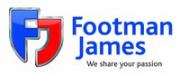 Some useful information when you insure with Footman James
The NOC has a partner arrangment with Footman James Insurance by which Members receive a discounted premium when they quote their Membership No.
As part of its FJ+ scheme, Footman James now offers cover for spare parts, a long awaited development and something that should be of great interest to many people.  Cover can be arranged to the value of £2000, £5000 or £10,000.
One detail of importance is that this extra spares cover has to be associated with an on-the-road motorcycle policy and it is not applicable to machines that are on laid-up policies.
There is however a way in which this can be achieved and that is if all the machines are at the same premises and stored in the same garage then the spares cover will extend to parts associated with bikes on a laid-up policy.
Members should check this detail carefully with FJ if taking out spares cover and satisfy themselves that this arrangment remains in force.