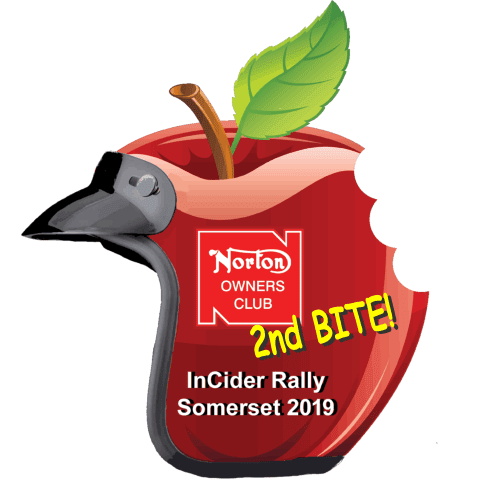 'The National Rally InCider2 St Audries Bay 2019'
The Norton Owners Club Second National Rally 2019.  Also known as  'InCider Rally the 2nd bite.' will be  held at St Audries Bay West Quantoxhead, Williton, Taunton
TA4 4DY on the weekend of 27th - 29th September 2019.
Full details of the location can be found at https://www.staudriesbay.co.uk/ but to take a section from the web site:-
St Audries is set in 20 secluded acres in an 'Area of Outstanding Natural Beauty' on the Somerset Coast with lovely views and access to the beach, giving a safe and relaxed environment to enjoy your holiday.
We have a lovely indoor heated swimming pool with sauna plus Snooker, Table Tennis, Tennis, Darts and Video Games.
Although it is the Under Cover rally, it does have space for both tents and caravans / campervans.
Bristol Branch will again be providing local support, organising and marshalling runs.
Apart from a few residents, the NOC has booked the entire site. Accomodation currently reserved is:-
Single chalet - single bed with shower ensuite ( 8 )
Twin chalet with shower ensuite ( 10 )
Double chalet with shower ensuite ( 3 )
Twin chalet with bath ensuite ( 13 )
Family chalets to be used as doubles with bath ensuite ( 6 )
2 bedroom caravans (16)
3 bedroom caravans (7)
4 bedroom caravans (2)
3 bedroom lodge (1)
Pricing is still being finalised but to give you an idea for budgetry purposes.
Rally Fee £25
Single Chalet with shower en suite          1 Single Bed               £69 (3 nights)
Twin Chalet with shower en suite             2 Single Beds           £150 (3 nights)
Meal Package - Buffet Breakfast + 2 course evening meal       £23 per person per day.
Booking will ONLY be via the NOC web site. Further details to follow.
Date of Event
-
Add to Calendar
2019-09-27 10:00:00
2019-09-29 16:00:00
NOC InCider2 Rally - St Audries Bay
Tony Ripley
inciderrally@nortonownersclub.org
Europe/London
public