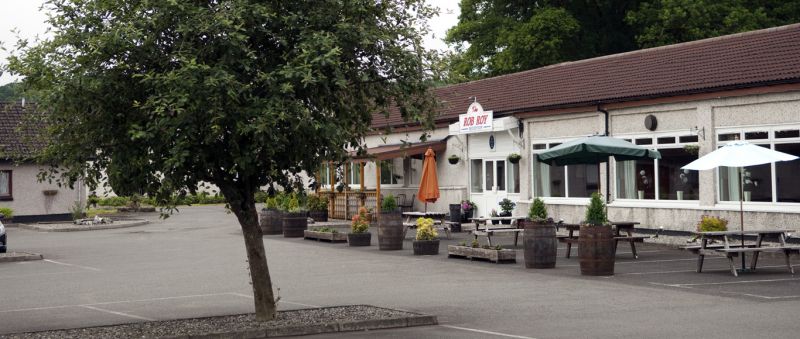 Update 11th January:
The Solstice Rally is now fully booked. If the Covid situation changes we may be able to open the booking again to allow additional attendees.
If you wish to be put on a waiting list for cancellations then please email your details to:
rallies@nortonownersclub.org
NOC National Rally - Scotland - 18th to 21st June 2021
The Norton Owners Club National Rally 2021
The Solstice Rally
The Norton Owners Club National Rally 2021, also known as  'The Solstice Rally', will be  held at the Rob Roy Hotel, Aberfoyle, Stirlingshire on the weekend of 18th - 21st June 2021.
Full details of the location can be found at https://www.robroyhotel.co.uk/ but to take a section from the web site:-
"The Rob Roy Hotel is wonderfully situated in idyllic countryside at the gateway to the glorious Trossachs and is set within Scotland's first National Park. Named after the legendary local folk hero Rob Roy McGregor, The Rob Roy offers excellent food friendly staff, and good old-fashioned value for money.
The hotel is a short stroll along the banks of the Forth River to the picturesque village of Aberfoyle where you will find Scottish made Arts, Crafts and Clothing, and 3 Visitor Centres. The splendours of Loch Katrine, Callender, Historic Stirling and Loch Lomond are all within easy striking distance, and the hotel is an ideal centre for touring the Trossachs, Perthshire and the Highlands."
The NOC has booked the entire hotel. Although Rob Roy has 100 rooms, we currently have a limit of 80 attendees as this is the maximum the restaurant can take with social distancing. Additionally, the hotel requires the room to be empty for 24 hours between guests to allow full cleaning. If this changes before the day we may be able to increase the numbers.
Prices are per person for the weekend and include dinner, bed and breakfast, arriving Friday after 15:00 and leaving Monday before 11:00.
Member prices are:-
Family rooms (1 double & 1 single bed) £140 per person
Doubles -  £140 per person Dinner, Bed & Breakfast
Single Occupancy - £170  per person Dinner, Bed & Breakfast
Twin-  £140 per person Dinner, Bed & Breakfast
Single Occupancy - £170  per person Dinner, Bed & Breakfast
Add £10.00 for non-members.
Bringing a dog? See https://www.robroyhotel.co.uk/accommodation/pet-friendly/
And also email rallies@nortonownersclub.org to let me know.
The planning is still very loose, but we would hope for Friday to be a 'meet and greet' in the bar with maybe some background music, Saturday may include some entertainment and / or one or more tech talks. (Offers invited!)
We have provisionally booked a visit to the Glengoyne Distillery for Sunday, the hope is that we could use their car park for bike display and judging.
Sunday evening will be a quiz and prize-giving. Anyone who was at the InCider Rally in 2017 or Reivers Rally in 2018 will be pleased to hear that it will again be hosted by Mike Blee who will pose more of his quirky questions.
It is hoped there will be unguided routes for runs out; the roads do not really lend themselves to group runs.
Booking is ONLY via the NOC web site.
For more details contact rallies@nortonownersclub.org
Tony Ripley
Event Location
Rob Roy Hotel
Aberfoyle
Stirlingshire
Scotland
FK8 3UX
Date of Event
-
Add to Calendar
2021-06-18 15:00:00
2021-06-21 11:00:00
The Solstice Rally - NOW FULL - BUT WAIT LIST AVAILABLE
Rob Roy Hotel Aberfoyle Stirlingshire Scotland FK8 3UX
Europe/London
public